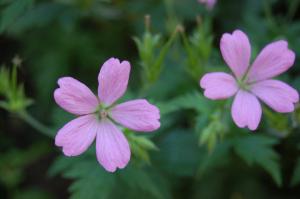 Geranium 'Wargrave Pink' flower (03/06/2011)
Position:  Will flourish in full sun to partial shade.
Soil: Moist and well drained.
Flowering period: Early summer to autumn.
Eventual Height: 60cm
Eventual Spread:  60cm
Hardiness: USDA Zone 3a-8b
Family: Geraniaceae
Geranium × oxonianum 'Wargrave Pink' is an evergreen perennial with a clump forming habit. Its mid green foliage is divided into five lobes and has a serrate margin. The inflorescence is in the form of small salmon pink flowers, three and a half centimetres across, borne throughout the summer months.
G. x oxonianum 'Wargrave Pink', commonly known as Cranesbill, is also known as Geranium 'Wargrave Pink' or Geranium endressii ' Wargrave Pink' and was created in Oxford.
Geranium is derived from the Greek geranos, meaning 'crane'; referring to the beak-like fruit. Oxonianum is derived from the fact that it is a hybrid created in Oxford.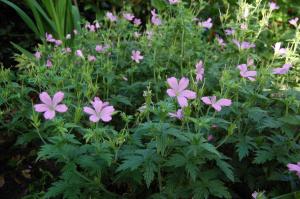 Geranium 'Wargrave Pink' (03/06/2011, London)
This plant may be useful to the landscape architect as an effective evergreen ground cover and will aid in the suppression of weeds.  It will also tolerate dry shade and short periods of drought.
This plant will tolerate almost any soil conditions; it will be happy in acid, neutral or alkaline pH levels, or in loam, sand, clay or chalk based soils in a sheltered or exposed location facing any aspect.
Ecologically this plant will attract many pollinating insects such as butterflies and bees.
The Royal Horticultural Society have given it their prestigious Award of Garden Merit.
Maintenance: Little maintenance required. Flowered shoots and old stems may be removed to encourage new growth. Plants may be cut to ground level in mid-summer to keep them tidy looking, generally they will then produce more leaves and flowers. If the clumps become too large this plant may be divided in spring.