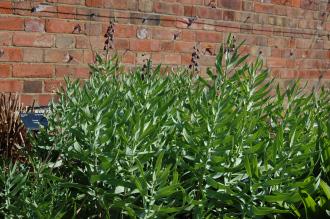 Fritillaria persica (21/04/2013, Kew Gardens, London)
Position: Full sun
Flowering period: Spring
Soil: Moist, well drained
Eventual Height: 90m
Eventual Spread: 10cm
Hardiness: 6a, 6b, 7a, 7b, 8a, 8b, 9a, 9b, 10a
Family: Liliaceae
Fritillaria persica is an upright, deciduous bulbous perennial. Its gray green leaves are lanceolate with entire margins, up to 10cm long and 1cm broad. Its dark purple to green flowers are bell shaped, up to 2cm long and appear in terminal racemes of up to 30.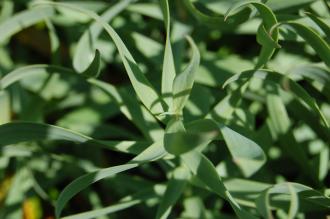 Fritillaria persica Leaf (21/04/2013, Kew Gardens, London)
Fritillaria persica, commonly known as Persian Fritillary, is native to the north east Mediterranean region and western Iran. In its native habitat it grows on rock slopes and scrub.
The etymological root of the binomial name Fritillaria is derived from the Latin fritillus 'a dice box' which refers to the markings on the flower of the Snake's Head Fritillary, another member of this genus. Persica is in reference to its native provenance of Persia.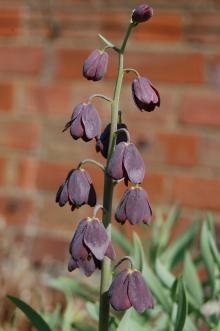 Fritillaria persica Flower (21/04/2013, Kew Gardens, London)
The landscape architect may find Fritillaria persica useful as a tall dramatic flowering bulb which is particularly suitable for hot locations. This bulb is not attractive to deer.
Ecologically, Fritillaria persica flowers are attractive to pollinating insects.
The Royal Horticultural Society has given the variety  Fritillaria persica 'Adiyaman' their prestigious Award of Garden Merit in 1996.
Fritillaria persica prefers moist, fertile, well-drained soils. It tolerates most pH of soil. This bulb will not tolerate poorly drained soils.
Fritillaria persica requires little maintenance.