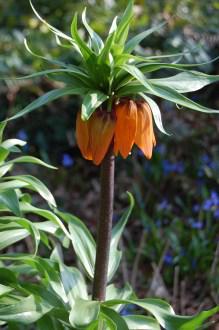 Fritillaria imperialis Flower (11/03/2012, Kew, London)
Position: Full sun
Flowering period: Spring
Soil: Moist, sandy, well drained
Eventual Height: 1.2m
Eventual Spread: 0.3m
Hardiness: 4b – 9a
Family: Liliaceae
Fritillaria imperialis is an upright,  robust bulbous perennial. Its glossy leaves are whorled, lance shaped and light green, borne at intervals along the upright stem. The flowers are borne in a terminal umbel of bell shaped, orange, yellow, downward facing flowers topped by a crown of small leaves. The fruit of the plant is a loculicidal capsules. The plant emits a distinct Fritillaria odour, usually just before the plant emerges in early spring and for the duration while the plant is evident.
Fritillaria imperialis, commonly known as Crown Imperial or Kaiser's Crown, is native to a wide stretch from western Turkey to the foothills of the Himalayan mountains. There are 134 species of this plant. Carl Linnaeus first described the plant in 1753. It was one of the first plants to be cultivated by man.
The etymological root of the binomial name Fritillaria is derived from the Latin fritillus 'a dice box' which refers to the markings on the flower of the Snake's Head Fritillary, another member of this genus. Imperialis is from the Latin meaning 'imperial', in reference to the crown like nature of the flowering head.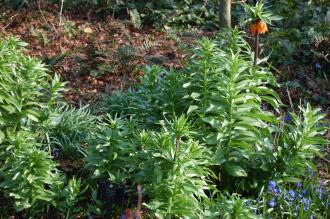 Fritillaria imperialis (11/03/2012, Kew, London)
The landscape architect may find Fritillaria imperialis useful as an attractive tall spring flowering bulbous perennial. It may be naturalised within areas of low growing ground cover.
Ecologically, F. imperialis is interesting as its odour repels mice, moles and other rodents.
The Royal Horticultural Society has given the variety F. imperialis ' Maxima Lutea' their prestigious Award of Garden Merit in 1993.
F. imperialis prefers moist, sandy, well-drained soils. It tolerates most pH of soil. It will not tolerate water-logging.
F. imperialis requires little maintenance. The flowering stalks may be cut to just above ground level once they have dried out.