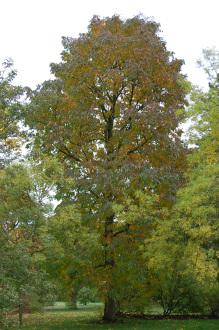 Fraxinus americana (20/10/2012, Kew Gardens, London)
Position: Full sun
Flowering period: Spring
Soil: Moist, well drained
Eventual Height: 30m
Eventual Spread: 20m
Hardiness: 4a – 9a
Family: Oleaceae
Fraxinus americana is a fast growing deciduous large tree with a narrow oblong crown. Its dark green leaves are opposite, pinnate with up to 7 leaflets which are lanceolate with serrate to entire margins, have glaucous undersides and are up to 30cm long. Its leaves turn yellow to bronze in autumn before they fall. Its trunk is generally long and straight. Its bark is light gray to brown with corky diamond shaped ridges. Its green to purple dioecious flowers appear in loose panicless and appear as the trees leaves unfurl. Its fruit is a single winged sumara.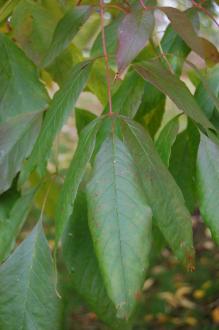 Fraxinus americana Leaf (20/10/2012, Kew Gardens, London)
Fraxinus americana, commonly known as White Ash, Biltmore White Ash, Cane Ash, Canadian Ash or American Ash, is native to central and eastern North America. It was introduced into the UK in 1724.
The etymological root of the binomial name Fraxinus is from the ancient Latin name for Fraxinus excelsior. Americana is derived from the Latin meaning "from America'.
The landscape architect may find Fraxinus americana useful as a large parkland tree with fantastic autumn color.
Ecologically, Fraxinus americana provides valuable nesting sites in the trunk cavities typically found in mature specimens of this tree.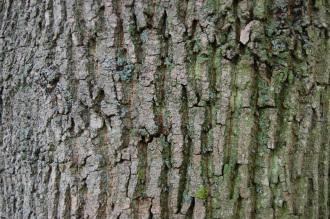 Fraxinus americana Bark (20/10/2012, Kew Gardens, London)
Fraxinus americana prefers moist, deep, fertile, well-drained soils. It tolerates most pH of soil.
Fraxinus americana requires little maintenance.