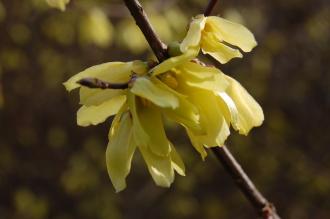 Forsythia giraldiana flower (1/03/2012, Kew, Londdon)
Position: Full sun to partial shade
Flowering period: Spring
Soil: Moist, well drained
Eventual Height: 3m
Eventual Spread: 2m
Hardiness: 5a – 9b
Family:  Oleaceae
Forsythia giraldiana is a medium sized deciduous, spring flowering shrub. Its mid green leaves are opposite, simple, ovate to lanceolate with an entire margin and up to 10cm long and 5cm wide. The bark is a rough gray brown color. The pale yellow, four lobed flowers are located singularly in the leaf axils, are up to 3cm long, are lightly scented and appear before the leaves. The flowers become pendant during rainy weather, protecting the reproductive parts of thee flowers. The fruit is a dry, ovoid capsule, these contain winged seeds.
Forsythia giraldiana, also commonly known as Forsythia giraldiana, is native to north west China where it grows in woods on slopes, stone crevices in ravines and flood lands. This species is one of the first Forsythia to come into flower.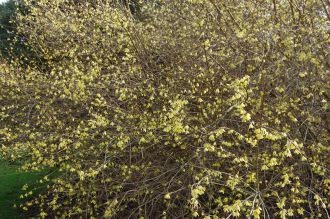 Forsythia giraldiana (1/03/2012, Kew, London)
The etymological root of the binomial name Forsythia is named after William Forsyth (1737-1804), the superintendent of the Royal Gardens in Kensington and St. James Palace and founder member of the RHS. Giraldiana is named after Giuseppe Giraldi (1848-1901), an Italian missionary in Shensi, China.
The landscape architect may find Forsythia giraldiana useful as a spring flowering, medium sized shrub. It forms a dramatic spring flowering informal hedging plant.
Ecologically, F. giraldiana is attractive to bees who pollinate the plants flowers.
F. giraldiana prefers moist, fertile, well-drained soils. It tolerates most pH of soil, including chalky soils.
F. giraldiana requires little maintenance. If pruning is required, this should be carried out after flowering.