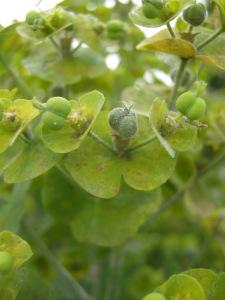 Euphorbia amygdaloides robbiae detail (01/05/2011, London)
Position: Full sun to full shade.
Soil: Moist but well drained.
Flowering period: Late spring to early summer.
Eventual Height: 80cm
Eventual Spread: 30cm
Hardiness: 6a-9a
Family: Euphorbiaceae
Euphorbia amygdaloides robbiae is a softly hairy, evergreen perennial with a bushy habit. Its reddish green stems bear spoon shaped to obovate, shiny, leathery leaves which are up to 6cm long. In early spring and early summer it bears terminal cymes of greenish yellow cyathia and involucres. This plant spreads by means of underground root runners.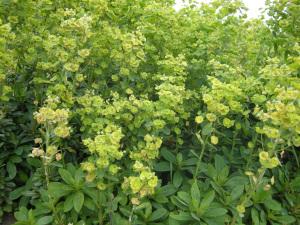 Euphorbia amygdaloides robbiae (01/05/2011, London)
Euphorbia amygdaloides robbiae, commonly known as Wood Spurge and the vareity robbiae is also known as Mrs Robb's Bonnet. The species Euphorbia amygdaloides is found throughout Europe in moist woodland habitats.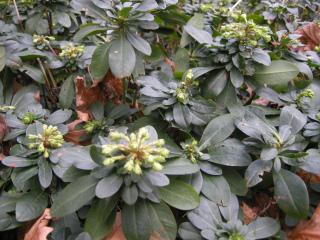 Euphorbia amygdaloides robbiae winter foliage (11/01/2012, London)
Euphorbia is named after Euphorbus, physician to Juba, a king of Mauritania. Amygdaloides is derived from the Greek amugdalos 'an almond tree' and oeidhs 'egg shaped'. Robbiae is named for the plant hunter who discovered it, Mary-Anne Robb, with its common name comming from how she had to smuggle it through customs, in her hat.
The landscape architect may find Euphorbia amygdaloides robbiae is useful as an effective ground cover, as it spreads by root runners. Its drought tolerance also lends this plant to xeriscaping.  This plant will also tolerate full shade and coastal conditions. Care should be exercised when locating this plant as its sap may cause an allergic reaction in some people and its sap is toxic when ingested.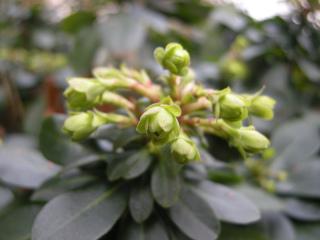 Euphorbia amygdaloides robbiae winter flower (11/01/2012, London)
Euphorbia amygdaloides robbiae is happy at most pH levels and the soil may be chalk, loam or sand. It may be placed in a sheltered or exposed location but will not tolerate a north facing position.
Ecologically, Euphorbia amygdaloides robbiae will attract pollinating insects such as bees that will feed on its nectar.
The Royal Horticultural Society have given Euphorbia amygdaloides robbiae their prestigious Award of Garden Merit.
Euphorbia amygdaloides robbiae requires little maintenance. Flowering shoots may be cut back to the ground in late summer or autumn to promote new growth and a tidy appearance.