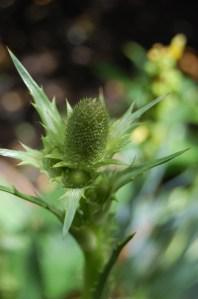 Eryngium agavifolium flower (18/06/2011, London)
Position: Flourishes in full sun.
Soil: Moist and well drained.
Flowering period: Summer.
Eventual Height: 1.5m
Eventual Spread: 60cm
Hardiness: USDA Zone 5a-9b
Family: Apiaceae
Eryngium agavifolium is an evergreen perennial with a clump forming habit. Its foliage is composed of rosettes of sword-like, sharply toothed rich green leaves. In summer, monoecious, thistle-like greenish white flower heads are produced on branched stems.
E. agavifolium is commonly known as the Agave-Leaved Sea Holly and is native to Argentina. Some records show that it was traditionally used to treat flatulence.
Eryngium is derived from the Greek eryngion, meaning Sea Holly, with agavifolium being a Latinised word alluding to its foliage being similar in appearance to that of the members of the Agave genus.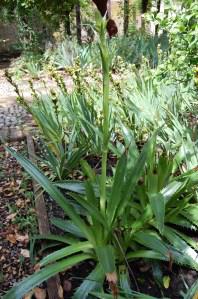 Eryngium agavifolium (18/06/2011, London)
This striking plant may be useful to the landscape architect as part of a prairie style planting scheme. It is drought tolerant once established.
This plant will tolerate many soil conditions; it will be happy in neutral, acid or alkaline pH levels, in loam or sand based soils but will prefer an east or south facing location in a soil which is well drained. Its preferred aspect is either sheltered or exposed.
Ecologically this plant will attract pollinating insects such as butterflies and honey bees although as it is not native to this continent these associations will not be prolific.
Maintenance: Little maintenance required. The plant may be cut back after flowering to encourage new growth.