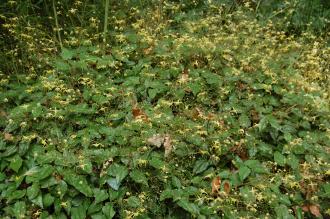 Epimedium rhizomatosum (27/07/2013, Kew Gardens, London)
Position: Dappled shade to shade
Flowering period: Summer
Soil: Moist, well drained
Eventual Height: 40cm
Eventual Spread: 40cm
Hardiness: 5a, 5b, 6a, 6b, 7a, 7b, 8a, 8b
Family: Berberidaceae
Epimedium rhizomatosumis an evergreen herbaceous perennial with a low growing, ground covering habit. Its shiny dark green leathery leaves are divided into three heart shaped leaflets with spiny margins, each up to 6cm long and 3cm broad. Its leaves emerge bronze/ red in spring. Its yellow flowers are composed of four petals,  up to 25mm across, appear on stems above the foliage as a panicle of up to 30 flowers. Its roots are long rhizomes which aids its spread.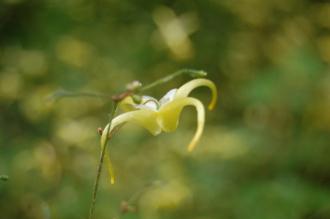 Epimedium rhizomatosum Flower (27/07/2013, Kew Gardens, London)
Epimedium rhizomatosumis, commonly known as Barrenwort or Bishop's Mitre, is native to central south China. In its natural habitat it grows in wooded environments.
The etymological root of the binomial name Epimedium is derived from the Greek name for this plant, used by Dioscorides and Pliny. Rhizomatosumis is derived from the Greek meaning 'having rhizomes'.
The landscape architect may find Epimedium rhizomatosumis useful as an evergreen, low growing,  ground cover in shady locations. This plant is rabbit resistant.
Ecologically, Epimedium rhizomatosumis is attractive to pollinating insects.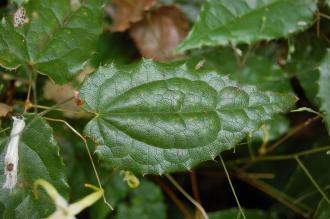 Epimedium rhizomatosum Leaf (27/07/2013, Kew Gardens, London)
Epimedium rhizomatosumis  prefers moist, humus rich, well-drained soils. It prefers an acid to neutral pH of soil, although it will tolerate most soils.
Epimedium rhizomatosumis requires little maintenance. Large clumps may be divided in autumn.