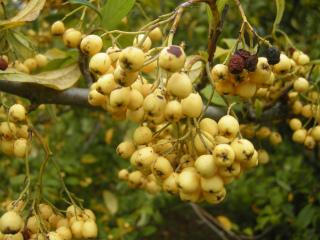 Cotoneaster salicifolius 'Rothschildianus' berries (Cambridge, 03/11/2011)
Position: Full sun to partial shade
Flowering period: Late spring
Soil: Well-drained, neutral to alkaline soil
Eventual Height: 5m
Eventual Spread: 5m
Hardiness: USDA Zones 6a – 10b
Family: Rosaceae
Cotoneaster salicifolius 'Rothschildianus' is a vigorous large semi-evergreen shrub with an arching growth habit. The leaves of the plant are pale green in colour, lance shaped, narrow, alternate, deeply veined and are up to 10 centimeters in length. The bark of the plant is gray in colour, with thin stems. The late spring flowers are white in colour, are quite fragrant and appear in the form of dense white clusters. These are followed  by small. showy, golden yellow pomes (berries) which last into late autumn. 
The species Cotoneaster salicifolius, commonly known as the Willow-Leaved Cotoneaster, is native to the mountains, mixed forests and open places in Western China. Cotoneaster salicifolius 'Rothschildianus' was raised in Exbury in 1930 and is a hybrid between Cotoneaster salicifolius and Cotoneaster frigidus 'Fructo-luteo'
The etymological root of the binomial name Cotoneaster is derived from the old Latin name cotone 'quince and aster being a Latin substantival suffix indicating 'resembling'. The term Salicifolius is derived from the Latin 'willow leaved'.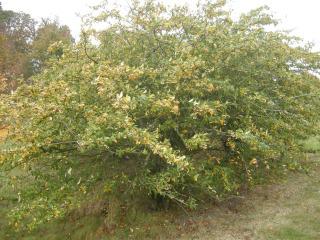 Cotoneaster salicifolius 'Rothschildianus' (Cambridge, 03/11/2011)
The landscape architect may find C. salicifolius 'Rothschildianus' useful as a large evergreen shrub with attractive autumn fruit. It also makes an effective informal hedging. This plant is drought tolerant once established.
Ecologically, the fruit attractive to birds and mamals.
C. salicifolius 'Rothschildianus'  has been awarded the prestigious Royal Horticultural Societies annual Award of Garden Merit in 1993.
C. salicifolius 'Rothschildianus' prefers a fertile, well-drained soil. It will tolerate most pH of soils. It dislikes waterlogged soils
Maintenance: This plant requires little maintenance. Prune only when required.