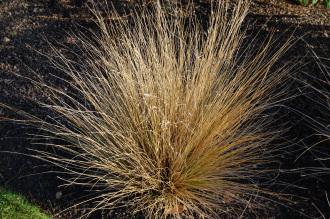 Chionochloa rubra (18/11/2012, Kew Gardens, London)
Position: Full sun
Flowering period: Late summer
Soil: Moist, well drained
Eventual Height: 1m
Eventual Spread: 1m
Hardiness: 8a – 10a
Family: Poaceae
Chionochloa rubra is an evergreen, tufted, clump forming grass. Its leaves are green/ red and brown/ green and strap shaped. Its flowers appear as lax panicles on stems that are up to 1.5m high.
Chionochloa rubra, commonly known as Red Tussock or Snow Tussock, is native to New Zealand.
The etymological root of the binomial name Chionochloa is derived from the Greek chiono meaning 'snow and khloe meaning 'young green shooots'.  Rubra is from the Latin meaning 'red'.
The landscape architect may find Chionochloa rubra useful as a ground cover grass when planted en mass.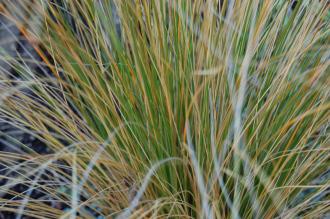 Chionochloa rubra Detail (18/11/2012, Kew Gardens, London)
Ecologically, Chionochloa rubra seeds are attractive to some birds.
Chionochloa rubra prefers moist, well-drained soils. It tolerates most pH of soil. It will not tolerate wet soils during the winter months.
Chionochloa rubra requires little maintenance. Large clumps may be divided in spring.