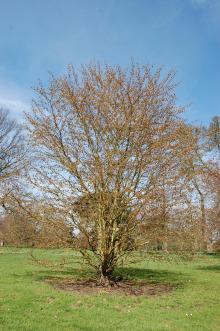 Cercidiphyllum japonicum (21/04/2013)
Position: Full sun to partial shade
Flowering period: Spring
Soil: Moist, well drained
Eventual Height: 15m (40m in the wild)
Eventual Spread: 10m
Hardiness: 5a, 5b, 6a, 6b, 7a, 7b, 8a, 8b, 9a
Family: Cercidiphyllaceae
Cercidiphyllum japonicum is a long lived deciduous tree with a rounded habit. Its bright green leaves are, opposite,  cordate/ orbicular with serrate margins, up to 9cm long and 8cm broad. Its leave appear orange/ bronze in spring and are pink/ yellow in autumn before they fall. Its autumn foliage is often fragrant, smelling of burnt sugar. Its dark red flowers are small and appear with the emerging leaves. Its fruit are follicles and appear in groups of up to four. It roots are generally shallow.
Cercidiphyllum japonicum, commonly known as the Katsura Tree, is native to China and Japan.
The etymological root of the binomial name Cercidiphyllum is derived from the binomial name Cercis (another tree) and the Greek phyllon meaning 'leaf'. Japonicum is derived from the Latin Meaning 'from Japan'.
The landscape architect may find Cercidiphyllum japonicum useful as a specimen tree with attractive spring and autumn leaf color. The young shoots of this tree are sensitive to frost, therefore a sheltered location is preferred. This tree may drop its leaves during periods of drought.
Ecologically, Cercidiphyllum japonicum is of little wild life value in the UK.
The Royal Horticultural Society has given Cercidiphyllum japonicum their prestigious Award of Garden Merit in 1993.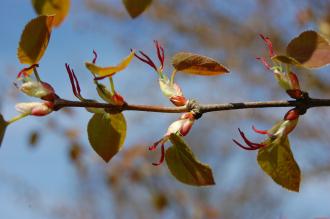 Cercidiphyllum japonicum Leaf & Flower (21/04/2013)
Cercidiphyllum japonicum prefers moist, humus rich, well-drained soils. It tolerates most pH of soil, although it prefers an acid to neutral pH.
Cercidiphyllum japonicum requires little maintenance.