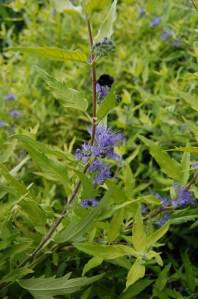 Caryopteris x clandonensis 'Worcester Gold' flower (10/07/2011, London)
Position: Full sun
Soil: Moist, well drained soil
Flowering period: Summer
Eventual Height: 1m
Eventual Spread: 1.5m
Hardiness: USDA Zone 5a-9b
Family: Lamiaceae (formally Verbenaceae)
Caryopteris x clandonensis "Worcester Gold" is a deciduous sub-shrub with a rounded, bushy habit. Its foliage is bright yellow and lanceolate with a simple margin. It bears clusters of small violet-blue, tubular flowers from late summer.
The Caryopteris genus, commonly known as Bluebeard, is native to eastern and southern Asia. Caryopteris × clandonensis was originally created as an accidental cross in the garden of Arthur Simmonds at West Clandon, near Guildford, Surrey in 1930 and went on to gain Royal Horticultural Society awards from 1933. The cultivar Caryopteris × clandonensis 'Worcester Gold' gained its AGM in 2002 and this was reconfirmed in 2007.
Caryopteris is derived from the Greek karyon, meaning 'nut' and pteron, meaning 'wing'; referring to the winged fruit. × clandonensis is the hybrid name given to the original cultivar in 1930 referring to its origins in West Clandon.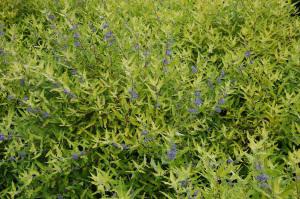 Caryopteris x clandonensis 'Worcester Gold' (10/07/2011, London)
The landscape architect may find this plant useful as a robust ground cover plant which is drought resistant. This plant is well suited to mass plantings on slopes or banks where low maintenance is a high priority.
The Royal Horticultural Society have given the cultivars it their prestigious Award of Garden Merit.
This plant will tolerate almost any soil conditions; it will be happy in neutral, alkaline or acid pH levels, in loam, chalk or sand based soils facing a sheltered, southern or western facing aspect.
Ecologically this plant is particularly noted for attracting pollinating insects such as butterflies and honey bees.
Maintenance: Requires little to no maintenance. May be trimmed in early spring to encourage flowering and a tidy habit.