Position: Full sun
Flowering period: Early spring (I can only assume this plant is flowering in September due to the poor summer we have had this year)
Soil: Wet (up to a depth of 10cm) to dry
Eventual Height: 40cm
Eventual Spread: 1.2m+
Hardiness: 5a -9b
Family: Saururaceae
Anemopsis californica is a spreading herbaceous perennial. Its mid green, waxy leaves are alternate,  spear shaped with rounded base and entire margins, up to 20cm long, 10cm broad and give off a spicy smell. It leaves turn bright red in autumn. Its white flowers are conical, up to 3cm tall, these are surrounded by up to 9 white bracts. Its fruit is a capsule. Its roots are creeping stolons which enables its spread.
Anemopsis californica, commonly known as Lizard Tail, Bear Root or Yerba Mansa, is native to south west North America. Anemopsis californica is the only specie within this genus.
The etymological root of the binomial name Anemopsis is derived from the Greek anemone and opsis meaning 'anemone like'. Californica is derived from the Latin meaning 'from California'.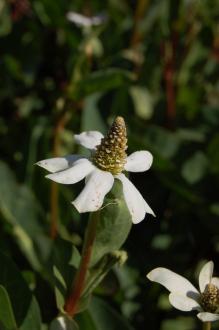 Anemopsis californica Flower (08/09/2012, Kew Garden, London)
The landscape architect may findAnemopsis californica useful as an effective ground cover. It is useful as a marginal plant on lakes, marshes and river banks. In some situations this plant may become invasive.
Ecologically, Anemopsis californica is attractive to pollinating insects.
Anemopsis californica prefers moist to wet soils and will tolerate a water planting depth of up to 10cm. It tolerates most pH of soil.
Anemopsis californica requires little maintenance. The removal of over vigorous stolons may be carried out any time of year.