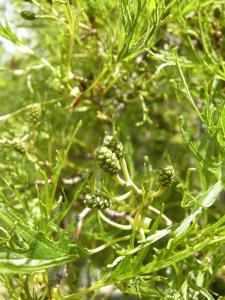 Alnus glutinosa 'Imperialis' detail (08/06/2011, Cambridge)
Position:  Will flourish in full sun.
Soil: Moist.
Flowering period: Early spring.
Eventual Height: 10m
Eventual Spread:  4m
Hardiness: USDA Zone 3a-7b
Family: Betulaceae
Alnus glutinosa 'Imperialis' is a deciduous tree with a conical habit. The foliage is alternate, mid green and deeply pinnately lobed. The monoecious inflorescence takes the form of wind pollinated catkins which, in the case of the males are slender, pendulous, and purplish in colour and the female's stout, small and cone-like in appearance. In winter the persistent dark brown strobiles (opened fruits) are retained on the trees, these resembling miniature pine cones.
A, glutinosa 'Imperialis', commonly known as the Cut Leaved Alder and sometimes known an Alder 'Imperialis' is believed to have been first grown in 1859 from a selection of Alnus glutinosa 'Laciniata' somewhere in France.
Alnus is the ancient Latin name of the Alder tree. Glutinosa also derived from the Latin meaning 'sticky'.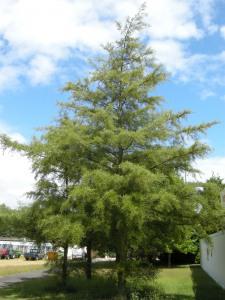 Alnus glutinosa 'Imperialis' (08/06/2011, Cambridge)
This plant may be exceptionally useful to the landscape architect when dealing with sites containing poor wet soil conditions or for land reclamation. This tree is also useful in the urban context due to its tolerance of pollution.
This plant will tolerate almost any soil conditions; it will be happy in acid, neutral or alkaline pH levels, or in loam, sand, clay, however avoid very chalky soils. It is happy in a sheltered or exposed location facing any aspect. It will also thrive in poorly drained soils.
The Royal Horticultural Society have given it their prestigious Award of Garden Merit.
Maintenance: Requires little to no maintenance, dead or damaged material may be removed in winter.