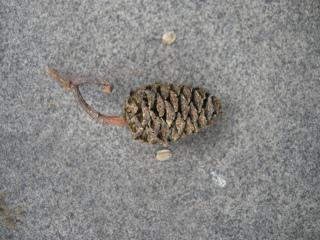 Alnus glutinosa cone (03/12/2011, London)
Position: Full Sun
Flowering Period: Spring
Soil: Well drained, Moist
Eventual Height: 25m
Eventual Spread:12m
Hardiness: 3a – 7b
Family: Betulaceae
Alnus glutinosa is a fast growing deciduous tree with a broadly conical, upright growth habit. The leaves of the plant are rounded in shape, becoming wedge-shaped at the base, having slightly toothed margins. They are 5 – 10 centimeters short stalked and are 6 – 12 centimeters long. When young they are slightly sticky. The bark is dark gray and fissured. The monoecious flowers are wind pollinated catkins, the male ones being slender and cylindrical catkins, dark yellow/ brown in color and 5 – 10 centimeters long. The female ones are smaller, 2 centimeters in length and red in colour, hard, somewhat woody and superficially similar to some conifer cones. When the small winged seeds readily propagate the alder. This tree suckers readily.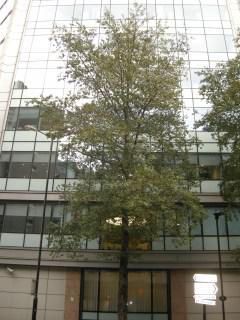 Alnus glutinosa (03/12/2011, London)
Alnus glutinosa, commonly known as the English Black Alder, European Alder and Common Alder, is native to most of Europe, including the UK. It is found around wetlands and bogs and is common throughout the UK. This tree fixes nitrogen in the soil via a symbiotic relationship with a bacterium.
The etymological root of the binomial name for Alnus is the old Latin name for Alder trees. Glutinosa is derived from the Latin glutino 'sticky' referring to the leaves. 
The landscape architect may find Alnus glutinosa useful as an uptight native street tree, due to its tolerance of urban pollution. It is suitable for planting as part of a native schemes, particularly in damp locations, it may also be coppiced. It may be used as part of a native hedge planting mix. It is also suitable in maritime locations.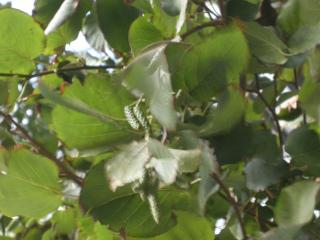 Alnus glutinosa catkin (03/12/2011, London)
This plant prefers most moist soils. It will tolerate most soils pH. It will not grow on acidic peat or shallow, chalky soils.
Ecologically, this native tree is beneficial wildlife, over 140 plant eating insects have been recorded on alder. In secluded areas female otters are known to build their nests, known as holts, in the roots of alders.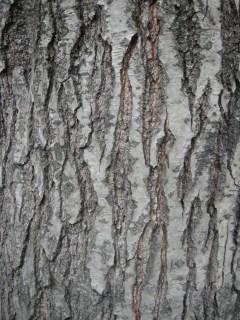 Alnus glutinosa bark (03/12/2011, London)
Maintenance: This plant requires little to no maintenance.