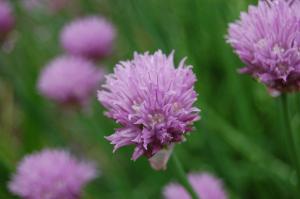 Allium schoenoprasum flower (28/05/2011, Vsetin)
Position:  Will flourish in full sun to partial shade.
Soil: Moist and well drained.
Flowering period: Late spring to early summer.
Eventual Height: 60cm
Eventual Spread:  5cm
Hardiness: USDA Zone 3a-9b
Family: Amaryllidaceae
Sub Family: Alliaceae
Allium schoenoprasum is an evergreen summer flowering bulb with a clump forming habit.  Its edible foliage is cylindrical, hollow and dark green, bearing terminal umbels of light purple, bell-shaped hermaphrodite flowers with six tepals that emerge from a papery bract in summer. This plant then produces seed in July and August.
Commonly known as Chives, A. schoenoprasum native to most parts of Europe, Asia and North America. Chives have been known and cultivated as a food for thousands of years. They have been used extensively in warmer climates they produce edible foliage year round and have also been used in traditional medicine. The ancient Romans used chives to treat sunburn and believed its consumption acted as a diuretic. It was also heavily planted in vegetable gardens as a natural insect repellent. This plant is the only species of  Allium that is native to both the Old World and New World.
Allium was the ancient Latin term for garlic. Schoenoprasum being the derived from the Greek schoinos meaning 'rush' and parson meaning 'leek', after a common name; Rush Leek.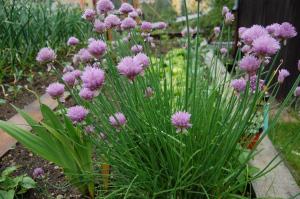 Allium schoenoprasum (28/05/2011, Vsetin)
This plant may be useful to the landscape architect in community garden or school projects. It may also be useful as an edging to hard surfaces.
This plant will tolerate almost any soil conditions; it will be happy in acid, neutral or alkaline pH levels, in loam, sand, clay or chalk in a sheltered or exposed location facing any aspect.
Despite being a repellant to many insects that consume foliage. this plant is attractive to bees. 
Maintenance: No maintenance required. It may be cut after flowering if it becomes unsightly, and will respond well to a hard pruning, coming back stronger. This plant will seed readily. Clumps of this plant may be divided in spring or autumn.