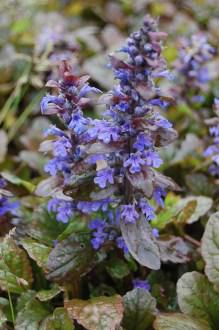 Ajuga reptans 'Braunherz' Flower (06/05/2012, Kew, London)
Position: Full sun to shade
Flowering period: Late spring
Soil: Moist, well drained
Eventual Height: 15cm
Eventual Spread: 50cm
Hardiness: 3a – 9b
Family: Lamiaceae
Ajuga reptans 'Braunherz' is a vigorous, low growing, evergreen creeping herbaceous perennial. Its glossy purple/ bronze leaves are obovate, with mildly undulate margins, up to 8cm long and 4cm broad . Its dark blue hermaphrodite flowers appears on spikes which are up to 15cm tall. Its fruit. It produces above ground stolons or runners which enable the spread of this plant.
 Ajuga reptans, commonly known as Blue Bugle, Bugleherb, Bugleweed, Common Bugle or Bugle, is native to most parts of Europe (including the UK). This species is considered as invasive in parts of North America.
The etymological root of the binomial name Ajuga is possibly derived from the Latin a 'without' and jugum 'yolk', in reference to the calyx lobes being equal. Reptans means 'creeping'.
The landscape architect may find Ajuga reptans 'Braunherz' useful as an effective low growing evergreen ground cover plant, particularly in shady locations.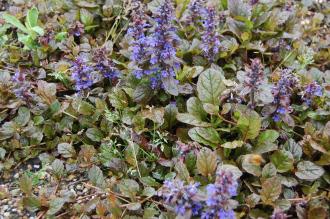 Ajuga reptans 'Braunherz' (06/05/2012, Kew, London)
Ecologically, A. reptans 'Braunherz' is attractive to bees and pollinating insects.
A. reptans 'Braunherz' prefers moist, fertile, well-drained soils. It tolerates most pH of soil. It will tolerate poor soils. It will not tolerate drying out.
A. reptans 'Braunherz' requires little maintenance. Large clumps may be divided in spring.