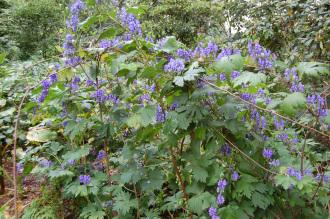 Aconitum hemsleyanum (21/09/2013, Kew Gardens, London)
Position: Full sun to partial shade
Flowering period: Late summer to early autumn
Soil: Moist, well drained
Eventual Height: 2.5m
Eventual Spread: 1m
Hardiness: 5a, 5b, 6a, 6b, 7a, 7b, 8a, 8b, 9a, 9b
Family: Ranunculaceae
Aconitum hemsleyanum is a deciduous, herbaceous perennial with a climbing habit. Its glossy dark green leaves are ovate-pentagonal, deeply lobed with up to 7 segments and up to 12cm lonag and 13cm across. Its stems are twining which enables this plan to climb. Its dark violet/ blue flowers are hood shaped, up to 2cm tall and appear in clusters of up to 12.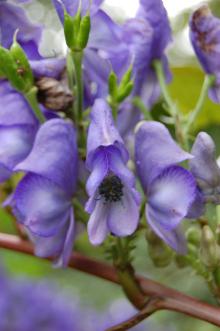 Aconitum hemsleyanum Flower (21/09/2013, Kew Gardens, London)
The species Aconitum hemsleyanum, commonly known as Climbing Monkshood, is native to east and central China. In its native habitat it grows at woodland margins and grassy slopes. All parts of this plant are extremely toxic.
The etymological root of the binomial name Aconitum is from the ancient Greek name for this plant and is loosely translated as 'unconquerable poison'. Hemsleyanum is named after William botting Hemsley (1843 – 1924), an English botanist.
The landscape architect may find Aconitum hemsleyanum useful as a relitavely low growing  climbing plant with blue flowers in early autumn. Care should be taken when locating this plant due to its poisonous nature, including via skin.
Ecologically, Aconitum hemsleyanum flowers are attractive to pollinating insects.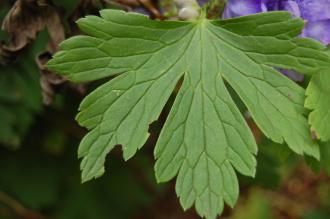 Aconitum hemsleyanum Leaf (21/09/2013, Kew Gardens, London)
Aconitum hemsleyanum prefers moist, fertile, well-drained soils. It tolerates most pH of soil. It dislikes wet soils.
Aconitum hemsleyanum requires little maintenance. To keep a tidy appearance old flowering stems may be removed in spring. Large clumps may be divided in late autumn to late winter.