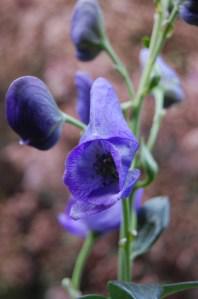 Aconitum carmichaelii wilsonii group 'Barkers' (17/09/2011, London)
Position: Full sun to partial shade    
Flowering period: Summer
Soil: Well drained soils 
Eventual Height: 1.6m
Eventual Spread: 0.4m
Hardiness: USDA Zones – 3a-7b
Family: Ranunculaceae
Aconitum carmichaelii is a spreading perennial plant achieving  a height of 1.6m in height in late summer. The plant foliage is deciduous with a rich green colour. The leaves of Aconitum are palmate or deeply palmatley lobed with 5-7 segments, each one with coarse sharp teeth. The leaves have a spiral or alternate arrangement , the lower leaves bearing long petioles. The flowers have numerous stamens and are zygomorphic.  The flowers are a rich blue, hooded and appearing in late summer until autumn. The fruit of the Aconitum is a follicle, which is a dry, unilocular  many seeded fruit formed from one carpel. The roots of this plant are tuberous and will spread.
A.carmichaelii, commonly known as Monkshood, Wolfsbane or Devils Helmet, is native to East Asia, particularly China and Japan. The Aconitum plant has long been used in traditional medicine in Asia, however the plant is extremely poisonous and in western medicine preparations Aconite is no longer used. In folklore Wolfsbane if worn, smelled or eaten is said to make a person a Werewolf.
The name Aconitum is probably derived from the Ancient Greek name for this plant derived from the Greek Akon which means dart; in reference to their arrows being poisoned with the juices of this plant. Wilsonii is named after the the early 20th century plant collector Ernest 'Chinese' Wilson.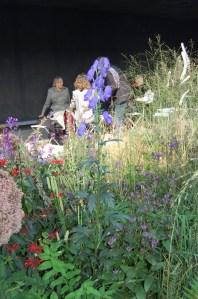 Aconitum carmichaelii wilsonii group 'Barkers'(17/09/2011, London)
The landscape architect  may find this herbaceous plant useful in shady moist locations. It will provide vertical accents in herbaceous planting schemes. Care should be taken when locating this plant due to its poisonous nature (toxic if eaten and harmful via skin).
Ecologically this plant is attractive to bees and butterflies. It is also used as a food plant by some Lepidoptera species including the Dot Moth, Mouse Moth, Engrailed Moth and Yellow tail.
This plant prefers well drained, fertile moderately moist soils in the PH range of 6.6 to 7.5.  It can tolerate both shady and sunny spots but grows notably well in shady areas beneath tree canopies.
Maintenance: This plant requires little to no maintenance. The dead flowering spikes may be removed in early spring. When clumps become large they may be divided in late autumn.