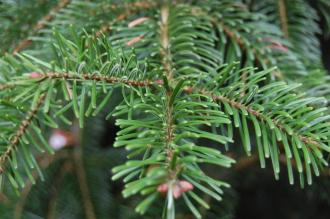 Abies nordmanniana subsp. nordmanniana detail (12/11/2011, Kew, London)
Position: Full Sun to Partial Shade
Flowering period: Summer
Soil: Moist, well-drained
Eventual Height: 40m
Eventual Spread: 6m
Hardiness: USDA Zones 5a – 8b
Family: Pinaceae
Abies nordmanniana subsp. nordmanniana is a large evergreen coniferous tree  with a columnar growth habit. The leaves of the tree are needle like, flattened, 1.8 – 3.5 cm long and 2 millimeters wide by 0.5 millimeters in thickness. They are glossy dark green above and have two blue – white, silvery bands of stomata below. The leaves have a glossy dark, green upper surface with white undersides. The leaf tip is usually blunt, often slightly notched at the tip but can be pointed, particularly on young trees. The leaves also give off a citrus smell when crushed. The flowers are monoaceous and wind pollinated. The cones of the tree are 10 – 20 centimeters long and 4 – 5 centimeters broad, with about 150 – 200 scales, with each scale bearing an excerpted bract and two winged seed. The trunk may achieve a diameter of 2 meters and bears tiered branches. The bark is gray brown and quite smooth with resin blisters. The new stems are gray to light brown in color. It will survive in dry conditions but much prefers cooler climates. Its growth rate is slower in dense shade. 
Abies nordmanniana subsp. nordmanniana, commonly known as the Caucasian Fir, Nordmann Fir and Christmas Tree, is native to the Caucasus mountains and northeastern Turkey. It is a popular ornamental tree. It was originally brought into the United Kingdom in 1848 from southern Russia. This tree also suffers very little needle loss so is described as the 'non drop' tree.
The etymological root of the binomial name Abies is derived from the Latin name for the fir tree. Nordmanniana is named after professor of Odessa, the Finnish biologist Alexander von Nordmann, who collected natural history specimens.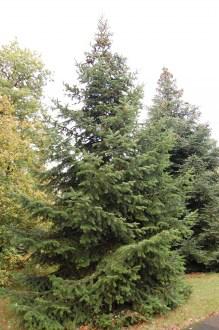 Abies nordmanniana subsp. nordmanniana (12/11/2011, Kew, London)
The landscape architect may find A. nordmanniana useful as an attractive, effective and ornamental parkland tree. It also would be of use in a commercial woodland planting project or scheme. It will not tolerate pollution.
A. nordmanniana has been awarded the prestigious Royal Horticultural Societies annual Award of Garden Merit in 1993.
A. nordmanniana prefers fertile, moist but well-drained, neutral to slightly acid soil. This tree dislikes chalky soils.
Maintenance: This plant requires little maintenance.