PLANETSHAKERS' JOTH HUNT REVEALS BOUT WITH CANCER
"ONLY WAY" SINGLE RELEASED MARCH 8 BOLSTERED HUNT'S FAITH ON JOURNEY TO BECOMING CANCER-FREE
2019 "Rain" Conferences Begin April 10 In Melbourne, Planetshakers Wraps Historic Tour With Franklin Graham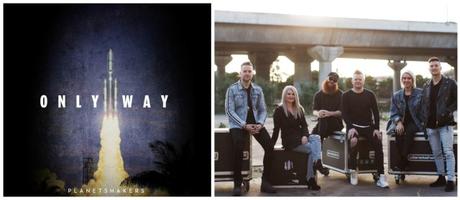 Internationally recognized praise band Planetshakers releases its "Only Way" single globally March 8 from Venture3Media (V3M). Available at iTunes, Apple Music, Spotify, Google Play and more digital and streaming outlets everywhere, the new song was recorded at Planetshakers Conferences in the Philippines and Malaysia in January, and was produced, written, mixed and sung by Planetshakers' Joth Hunt. It also became an encouragement to this multi-talented worship leader through his battle with cancer.
"I've seen other people go through this, but never thought it would happen to me," confesses Joth, who learned of his condition just prior to the start of the Planetshakers tour of Asia this past January. "It wasn't great timing. I feel so called to go to Asia, but this was a roadblock, something that was planning to stop me from going."
A doctor told Joth that he would need surgery to remove the cancerous tumor, and that he would be bedridden for at least two weeks, which would mean he would miss the tour. After breaking the news to his wife, together the couple decided to believe for a miracle. "It was at that moment that I began to seek God, put on worship in my headphones, and declared that God is able to make a way when there seems no way," which is the very declaration the song "Only Way" makes – a song Joth wrote just before finding out he had cancer.
"These are the kinds of statements I put in songs, because I know that other people are going through challenging times like this. But now, they never rang more true to me, personally."
With the help of Planetshakers Church Sr. Pastor Russell Evans in finding a doctor to get a second opinion, Joth met with the new doctor on a Thursday and the next day he was in surgery – just six days before his plane would leave for the tour starting in Manila.
Sharing with the Planetshakers team in Manila a week-and-a-half after the surgery – the team didn't know he had gone through surgery – Joth shares, "I had to testify how good God is. The enemy didn't' want me to be here tonight. But he lost. God had the victory over it."
The lyrics in the chorus of "One Way" go on to say:
You are the way
Jesus You're the only way
Doesn't matter what they say to me
I believe in You
So I praise
Jesus I will give You praise
Doesn't matter what may come at me
I believe in You
"God had me write that song a week before I knew this was going to happen. It was the perfect tool God helped me to use to declare victory over the situation," says Joth, adding, "It's easy to sing these songs week-to-week, but when you are actually going through it, these lyrics become more…they become an anthem."
With CT and X-ray scans, as well as blood tests coming back clear, Joth testifies, "There is zero cancer in my body because God closed the book on that. The struggle of this journey is over…God has taken care of it. So thankful to God!"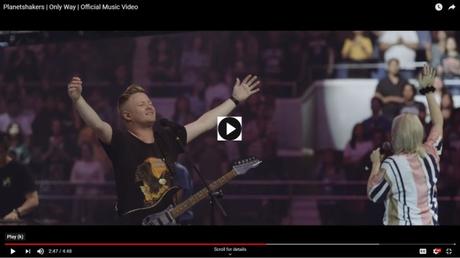 Joth, along with the Planetshakers praise team, are captured on video at https://youtu.be/YcLyvFmIlUs leading thousands of people, joyfully singing "Only Way" live in Asia this past January and following Joth's bout with cancer. Joth also shares part one of his miraculous journey leading up to the recording of "Only Way" at https://youtu.be/Acv3bUtda6A.
In addition to "Only Way," Planetshakers released its acclaimed, four-song digital EP Rain Part 1 in January. The new EP precedes the annual Planetshakers Conference in Melbourne, AU that launches with the "Rain" theme this year at Melbourne Arena April 10 and at Royal International Convention Centre in Brisbane, AU (Bowen Hills QLD) April 16. The promotional video for the conferences can be seen at https://youtu.be/veN7GFxWeHA.
Taking the new music, favorites like "The Anthem," "Endless Praise" and "Turn It Up," and songs from its acclaimed, top-selling fall 2018 Heaven On Earth album on tour, Planetshakers just wrapped-up a tour with Franklin Graham, commemorating the 60th anniversary of late Rev. Billy Graham's historic evangelistic events across Australia in 1959. Following the tour with Graham, Planetshakers will return to the US for the Smoky Mountain Winterfest in Knoxville, TN March 10.
For all the latest Planetshakers tour, music and conference news, visit Planetshakers.com, Twitter (168,000 followers), YouTube (723,000 subscribers), Instagram (499,000 followers), Spotify (587,000-plus monthly listeners) and Facebook (over 1.493 million followers).
About Planetshakers:  Since its inaugural gathering in 1997, Planetshakers has gone on to become a global movement through its annual conferences, international church campuses and numerous live recordings, including multiple Dove Award-nominated projects. The Australia-based collective, led by Senior Pastors Russell and Sam Evans, has hosted gatherings in cities around the world while also launching Planetshakers Church in 2004. With over 14,000 members in Australia, Planetshakers Church is one of the fastest growing churches in that nation's history, stretching across five campuses in Melbourne with additional locations in Singapore; Cape Town, South Africa; Geneva, Switzerland and Austin, TX.
Celebrating over 20 years of ministry, Planetshakers honors the countless ways God has used its ministry and music to raise up a generation of Christ followers with a clear vision of taking the Gospel to the nations… "empowering generations to win generations."
About Venture3Media:  Venture3Media is a global music label and song publisher with sales, marketing, promotional, radio, television and movie expertise. V3M provides distribution platforms across all digital channels, including but not limited to Spotify, Apple Music, iTunes, Amazon, Deezer, Tencent, 7Digital, Google Music, Facebook, Pandora, Tidal, Sirius and Rhapsody. Physical distribution includes online retailers such as Amazon, national retail chains, sub-distributors and internationally through well-established licensee's and distributors. V3M is excited to build a global ecosystem that serves the vision and heart of Planetshakers to see God's kingdom come on earth as it is in heaven. 
~ ~ ~ ~ ~ ~ ~ ~ ~ ~ ~ ~ ~ ~ ~ ~ ~ ~

It would be great if you would stay connected with me!! You can follow me on Twitter @DebiL1611, like me on Facebook at 2014 and Beyond, circle me on Google+, follow me on Tumblr, Instagram and Bloglovin', subscribe on YouTube, or connect with me on LinkedIn and Pinterest.

Please make sure to visit my homepage and subscribe to my blog for more great posts on running, fitness and lifestyle topics as well as food, product, music and book reviews, and more!