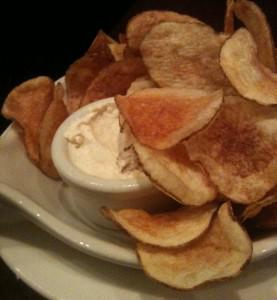 Caramelized Onion Dip and Chips at Clarke's
South Beach is known for glitz and glamor. Among the historic Art Deco-era buildings are lively clubs, designer shops and boutique hotels.  There are also lots of restaurants, including some that have won accolades from The James Beard Foundation, and some that are home to celebrity chefs. In this highly charged atmosphere most things come with a hefty price tag. But it is possible to dine nicely in the midst of things without breaking the bank, which was evidenced at the following two restaurants. As with many vacation destinations, I found that the best rule of thumb is to go where the locals go.
Puerto Sagua: 700 Collins Avenue, Miami Beach, Florida, 305-673-1115.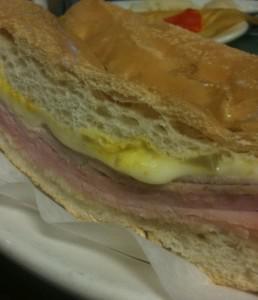 Cuban Sandwich
While other parts of the Miami area are much better known for Cuban food, South Beach boasts a Cuban Restaurant that is quite good. I first visited Puerto Sagua (named for the port city in north central Cuba) about 10 years ago, and have made it a point to eat there on other trips to South Beach. Just inside the entrance is a counter that gives Puerto Sagua the appearance of a diner. The large dining room is a bit dark (a stark juxtaposition to the otherwise neon bright South Beach) with basic tables and chairs.  Interesting 3-dimensional murals adorn the walls.
But the atmosphere is not the reason to go there. The food is. Taking in the aroma, I am transported back in time to my grandmother's Tampa kitchen, where Cuban sandwiches, Spanish bean soup and garlicky roast pork were always present.  It is hard for me to decide what I want, but prices are so good that I can order a big variety without overspending.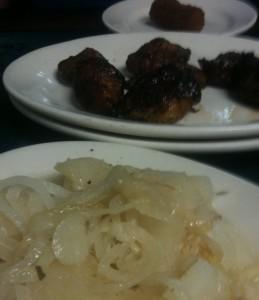 Yuca (front), sweet plantains (middle), chicken croquette (back)
I always order the platanos maduros (sweet plantains). They are soft inside with a wonderfully caramelized exterior that makes them almost like candy. Starchy chunks of yuca cooked down with onions and garlic are a wonderful alternative to potatoes. Those new to yuca should know that it is common to have a piece or two that is woody in texture. I just leave those on the plate.
Puerto Sagua makes a traditional Cuban sandwich. Cuban bread that is nicely chewy with a soft interior and crusty exterior is dressed with yellow mustard and dill pickle slices (both essential to a proper Cubano). The sandwich is filled with Swiss cheese, ham and roast pork, then grilled to crisp the bread and heat the filling.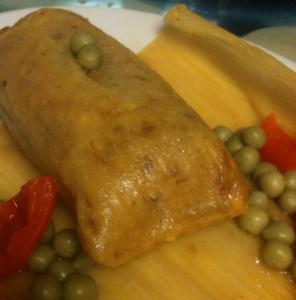 Tamal
I adore Cuban tamals. Unlike the Mexican tamale that tends to be firm, the cornmeal of the Cuban tamal is softer, reminding me of polenta. The tamal is served with peas and pieces of pimiento atop a corn husk.
Other Cuban classics include wonderfully fragrant black beans, ropa vieja (shredded beef), zarzuela de mariscos (seafood casserole), tortilla Espanola (potato, onion, ham and chorizo omelet) and paella Valenciana (seafood and chicken with rice). Desserts include flan (caramel custard), diplomatic bread pudding, and a childhood favorite of mine, guava in syrup with cream cheese.
While there are entrees that exceed $20, there are many more options that are less expensive. A dinner of picadillo (ground beef hash) with black beans, rice and sweet plantains is under $10. A large Cuban sandwich is just $8.
Clarke's: 840 First Street, Miami Beach, Florida, 305-538-9885.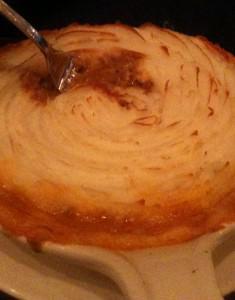 Shepherd's Pie
While Cuban food in Miami Beach wasn't a big surprise, a cozy Irish pub is. Clarke's has a bar that runs along one side of the restaurant, and banquette seating and tables on the other. Lots of dark wood, and accents of brick, stained glass and brass set the tone. That tone was warmth. The greeting was welcoming, our server was pleasant and knowledgeable, and the patrons were having a good time. The dining room was filled with locals, including a couple of families with well-behaved kids.
The menu has the anticipated pub fare, such as bangers and mash, and steak and kidney pie. Contemporary American fare, including grilled skirt steak, and Asian-inspired curry also have places on the menu.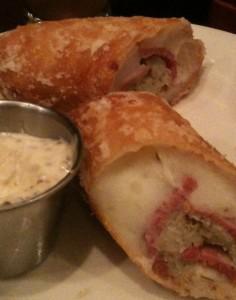 Irish Spring Rolls
The first thing that caught my eye was something called Irish Spring Rolls. It is a tongue-in-cheek dish that found quintessentially Irish corned beef, cabbage and mashed potatoes wrapped up and deep fried in a wonton wrapper. They are served with a coarse mustard dipping sauce.
Even better was an order of caramelized onion dip and crisp golden brown chips. Clarke's also has a cheese plate that features Roaring Forties Blue, a spectacular Australian cheese with a nutty sweetness.
Dining in a pub, it made sense to have the pub fare. These classics are also among the best values on the menu. Team the heartier offerings with a pint of Guinness for the full effect.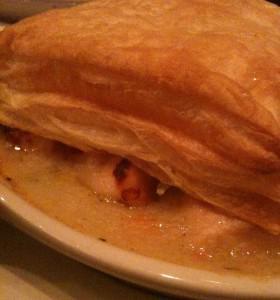 Chicken Pot Pie
Shepherd's Pie is a traditional preparation of hearty meat and vegetables topped with mashed potatoes before baking. The chicken pot pie has an upscale twist. Tender pieces of chicken breast are cooked with vegetables in a light sauce that is fragrant and delicious. It is topped with a flaky square of puff pastry instead of a standard pie crust.
A lunch menu offers lots of sandwiches and salads, as well as the pub standards. Sunday Brunch includes a traditional Irish breakfast of eggs, sausage, Irish bacon, black and white pudding, grilled tomato, sauteed mushrooms, beans, potatoes and toast.  Challah French toast, Irish oatmeal creme brulee and pancakes with Vermont maple syrup are also offered. And for a final giggle, a bowl of Lucky Charms cereal rounds out the menu.
Most lunch choices are under $15, with some under $10. More than half of the dinner entrees are under $20, and all but one item of pub fare is less than $15.
With breakfast, lunch and dinner options, these two restaurants give South Beach visitors a way to eat well without putting a big dent in a budget. They also offer welcome local variety.
To read more of what and where I am eating and drinking, follow me on Twitter @colleensachs.