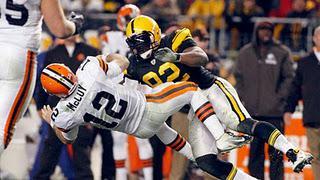 Photo: Getty Images
Pittsburgh Steelers linebacker James Harrison has quite the history of illegal hits, and last week against the Cleveland Browns he landed a wicked helmet-to-helmet shot on quarterback Colt McCoy, and  NFL commissioner Rodger Goodell handed the repeat offender only a one-game suspension.
Before I delve into my logic here, I should preface any readers with the fact that Harrison is honestly my least favorite player in the NFL. I think Harrison is a dirty, cheap, disrespectful, and most of all he is a danger to himself and other players. The entire debate about illegal hits could have been renamed, 'let's try and stop Harrison talks.' You get it. I really dislike Harrison.
However, Rodger Goodell, who has already handed Harrison over $125,000 in fines counting back to last season for his illegal hits, decided that a one-game suspension would be a just punishment for his latest antics. Harrison deliberately led into his tackle against a defenseless McCoy with his helmet, and knocked the quarterback out of the game for a few plays.
After the game, it was discovered that McCoy had a concussion, and the Browns medical personell made a mistake on the sideline when diagnosing him following the hit. The next day, McCoy admitted not to remembering the hit by Harrison, or much of the game after it.
I am aware that mistakes do happen in the NFL. Occasionally a defensive player will lead with their helmet accidentally, and there will be helmet-to-helmet contact. Even in this situation, Goodell would likely hand out a fine, just to cement the point that these types of hits are off limits. But this is not the case with Harrison, and the he led with his helmet with 100% intention to do damage.
Harrison is the first player to be suspended by the NFL under the new helmet-to-helmet policy, but it's clear that one-game suspension is not enough. We're talking about a player that has said, despite Goodell's decision, that
he will not change the way he plays
. This is the same linebacker that has landed five illegal hits on quarterbacks in the last three seasons.
This is the same 33-year old James Harrison that isn't going to change.
It's clear that Goodell needed to make his punishment much worse than what it is, and what it's been in the past. According to ESPN, for missing the one game, which will be the Steelers
Monday Night Football
match-up against the San Francisco 49ers, Harrison will lose in the range of $73,529. That makes the situation slightly better, but I still do not feel this is a fair punishment for such an arrogant player.
I know that Goodell is trying to play even-keel right now, but I'm really not sure why he has much sympathy, if any at all, for Harrison. For those who forgot, during the NFL Lockout, Harrison called Goodell such gems as, "the devil," and "a crook."
If this were Harrison's first offense on such a deliberate cheap-shot, I would think a one-game suspension is a fair punishment. But this latest incident just adds to the laundry list of illegal hits that Harrison has landed over his career.
Honestly, if I was Goodell, I would have kicked him out of the NFL. Send a clear message to the entire league, and also put an end to a bush-league linebacker endangering other players. This sort of play is unacceptable, and Goodell has to make sure other players know it.
Be sure to follow Beard and Stache on Twitter @BeardAndStache, and also Troy @TroyBallards, Like our Facebook page HERE!