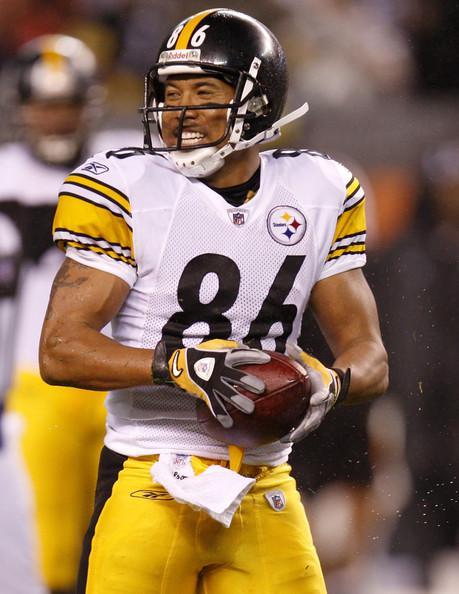 Photo: Gregory Shamus/Getty Images
- Adam Parker
The Steelers announced the team plans on releasing wide receiver Hines Ward, a situation where a good outcome is impossible, especially for Pittsburgh and the fans.
However, even if you're not a regular reader of tea leaves and tarot cards, or your crystal ball was a tad too foggy, you -- like so many others -- probably saw this coming.
Ward was going to either get cut or disappear on the Steelers' bench. The only way there is a perfect ending is when the player decides to hang up his cleats on his own terms, and in the NFL, sadly, that rarely happens.
"
This isn't how I wanted this chapter of my career to end
," Ward said in a statement released by his manager. "
I did everything in my power to remain a Steeler and finish what I started here 14 years ago.
"
Releasing the former 1998 third-round pick out of Georgia, whose ear-to-ear smile has been a lasting image for Steeler Nation for the past 14 seasons, will go down as one of the toughest decisions the Steelers, as an organization, have ever had to make.
That being said, they made the right call.
Despite what you may feel for Ward as a loyal fan, don't blame the Steelers for making a logical business move. The Steelers simply can't pay a fourth-string wide receiver $4 million a year, even if they had the cap room.
The brutal reality of this situation is the Steelers no longer needed Ward, who turns 36 in nine days. Pittsburgh's top three wide receivers -- Mike Wallace, Antonio Brown and Emmanuel Sanders -- each averaged more than 13-yards a catch. Ward, who ranked fourth on the team with 46 receptions, averaged 8.3.
In his statement, Ward thanked team officials and his fans. "
I gave my heart and soul for you every down and I will always bleed black and gold
," he said.
What's next for Ward?
He doesn't appear ready to retire as a Steeler.
"
I do feel that I still have some more football left in me and I am looking forward to playing in the NFL, again, this upcoming season
," he said.
However, despite how Ward might feel, there is no guarantee that he will play in 2012. The only chance he has to continue his playing career is if a team values his leadership and wants a veteran to be its third receiver.
However, if Hines doesn't get a shot somewhere else in 2012 and ultimately decides to call it a career, is he a Hall of Famer?
Over the course of 217 career games (all with Pittsburgh), Ward compiled 1,000 receptions; 12,083 receiving yards and 85 receiving touchdowns.
It seems like a pretty solid resume to me, especially when you consider that Ward is one of only eight players in NFL history to haul in 1,000 passes. If that kind of consistency doesn't earn you your own personal bust in the Hall, I don't know what will.
That being said, I'm still not sure of Ward's chances. Playing with the Steelers for his whole career (barring that he doesn't suit up for another squad in 2012, of course) will definitely help his chances with the voters.
His stats are very impressive as well. But then I remember that Cris Carter hasn't yet received his call from the Hall yet -- something that is grossly overdue in my opinion. If Carter isn't in yet, you have to wonder how long it will take for Ward's name to be called, if ever.
But we'll cross that bridge when we come to it.
Ward still plans on playing in the NFL for the 2012 season, and I hope you'll join me in wishing him all the best as he continues his career. Good luck, Hines. You'll be sincerely missed.
Be sure to follow Beard And Stache on Twitter 
@BeardAndStache
, 
and also Adam 
@Adam_Parker43
, Like our Facebook page 
HERE
!