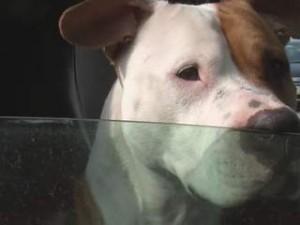 Rescuers are hoping one dog's plight will put dog fighting on the radar.
A pit bull named Radar, was flown into the Cuyahoga County Airport on a single-engine plane from Westchester Pennsylvania just after 1:30 p.m. Monday. Matthew Kiener, a pilot from New Jersey, read a blog about a dog that needed a flight and flew at the chance to help.
Radar's last owners left him in a ditch on the side of the road. Based on his scars, the dog was only in two or three fights.
Chris Hughes with Rowdy to the Rescue said if you take a walk through the Cleveland Kennel, you'll find tons of dogs with similar backgrounds.
"The sad thing about Radar's story is that it happens all the time," Hughes said. "In Cleveland unfortunately dog fighting is very prevalent."
Hughes's group will decide on Radar's new home, but not before the dog goes to Elite K-911 in North Ridgeville for training. Even though Radar was used in dog fights, owner and trainer Chris Stella said the pit bull won't be as afraid of humans or other dogs as one might think.
"You would be surprised at how little it takes to get over that," Stella said. "He is open to other people, even though someone has done some horrible things to him." He said the most important thing to do is socialize the dog so he'll be ready for his new home.
Hughes said pit bulls are the most abused animals in the country and the real problem is not the type of dog, but the people who own them.
"You know there is great saying that your looking at the wrong end of the leash when people look at a bad dog… People caused that," Hughes said.
He said he does not know how long it be take for Radar to get ready for his new, permanent home.
~ Courtesy of News Net 5
Tags: Dog Fighting, dog rescue, dog spirit, second chances