Pirates of the Caribbean got worse and worse by every one of its' sequels. By the time Disney came up with the fourth sequel, the critic ratings went down gradually from 70% to 33%. So, does this mean the next sequel could be worse than all of the previous sequels?
Folks over at Nerd Wallet have gone trough a whole lot of trouble to research on this topic and figure it out. According to their results, Pirates of the Caribbean 5, which is planned to head out in 2015 will only earn 31% critic rating and will be 61% worse than the original.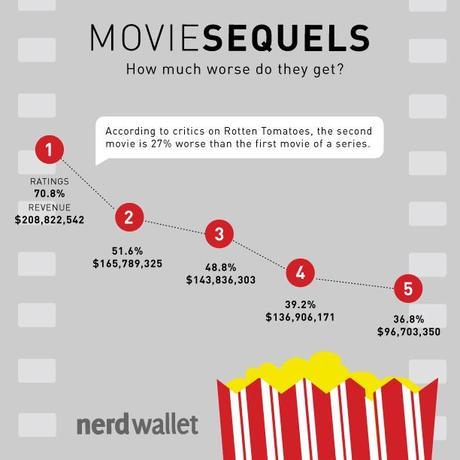 While their methods seems legitimate, I don't think we can possibly predict the success rate of a movie ahead of time, before we actually see it. For example Christopher Nolan's Batman trilogy and Justin Lin's Fast and Furious series only got better and better over the years, making billions in theaters. Besides, one can't judge a movie based on critic rating, especially from Rotten Tomatoes or by the grossing amount.
So, what do you think about Nerd Wallet's statistics? Do you think they are correct?

Email This
BlogThis!
Share to Twitter
Share to Facebook