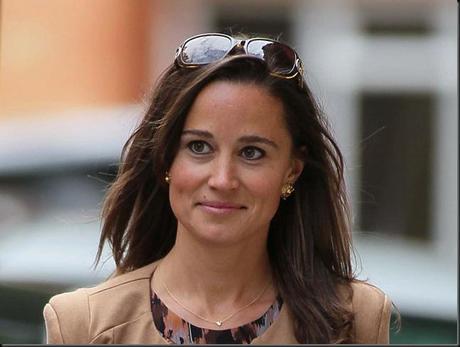 She was at the royal wedding last year as the maid of honour, but arguably Pippa Middleton stole the show ahead of her more illustrious sister. She has created an image since the wedding as a bit of a socialite and someone who likes to have a good time. To all reports, she is currently going out with George Dominic Percy, the heir to the Dukedom of Northumberland. Her astrology says that changes are going to affect her life as 2012 moves on.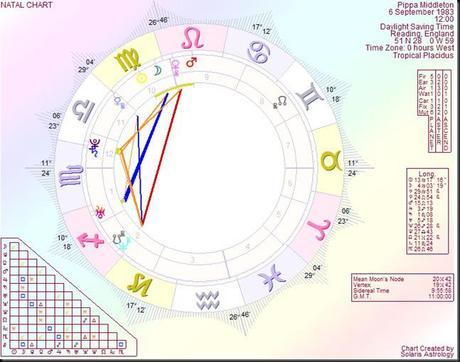 Philippa Charlotte Middleton was born on 6th September 1983 in Reading like her sister. I do not have an official birth time and if anyone does know it I would love to receive it. Astrotheme does quote 04.40am but this time is unverified, and I am sceptical of it's origin. She is a Sun Sign Virgo, with probably a Virgo Moon, although if she was born before 05.00am then she will have a proud Moon in Leo.
This is a very fiery and mutable chart. She will have lots of enthusiasm with 5 (possibly 6 planets in fire signs) and with 5 (maybe 6 planets) in mutable signs - Mercury is on the cusp of Virgo and Libra and through this day changed signs. As such, Pippa is someone who adapts to change will more ease than most. With Sun in Virgo there is a modest charm to Pippa. Correct and neat of appearance, Virgos are very down to earth and practical but they do also worry behind the scenes; Virgos are also great at getting all the little details right. Virgo energy can be quite critical and this will be much enhanced if Pippa's Moon is also in this sign. You know the image of Virgos in the public sphere is that they sort of hold back a little bit in a social sense, but I disagree. Virgos can go the other way and be very outgoing indeed if the other planets suggest so. On this chart, we have both Virgo and Mars in Leo which is very showy, very glamorous and enjoys fun and romance. Venus is retrograde, so even though Pippa will enjoy the adoration of being center of attention, in relationships she will be far more circumspect and will try to keep things under wraps. Not much chance of that with the world's media following your every move. One thing though, she will like someone with a big personality; Venus in Leo needs their Prince Charming, someone who will shower them with affection and love.
The fact that Pippa is working in party planning is very appropriate. The Venus/Mars conjunction makes a trine to Neptune in Sagittarius, which emphasises a creative streak in her. This trine in turn makes a mini grand trine with a heavyweight Pluto and Saturn conjunct. Of course, Saturn here signifies work and profession. Neptune in broadminded Sagittarius also makes a square to Mercury on the cusp of Virgo and Libra. Mercury here shows an attention to getting all the vital details correct and it's proximity to the Libran cusp brings a social chatty edge, perfect with dealing with people.
We have 3 signs  Sagittarius here which do compliment this very outgoing nature that she seems to have. Neptune as I said is in Sagittarius which has big expansive dreams and ideals. We also find Jupiter closely conjunct to Uranus which is very, very outgoing. This is fun and joy taken to a high extreme, she may well be more than a bit of a risk taker and she will be very generous, warm and friendly. Anyone who does date her better have a big bank balance too as this girl will like to spend in an extravagant way. The trine from these two planets to the Moon shows someone who will be sympathetic to others if they do make a mistake, with this aspect one always tends to give the benefit of the doubt and to give a second chance. Uranus square to the Moon is very spontaneous and lively, and conveys an emotional freedom. It is not always easy to keep relationships on an even keel with this square, as one can be emotionally a bit erratic as well. One often wants to move on to experience the next exciting emotional encounter.
The Saturn/Pluto conjunction here on this chart shows the potential for very high achievement and a prominent position in life; here we have ambition and power taken to it's extreme. Pippa will be very interested in making a name for herself, and just because of her position as sister to the future Queen of England, she may well be gently pushed I might think into a wedding with someone of similar standing as Prince William.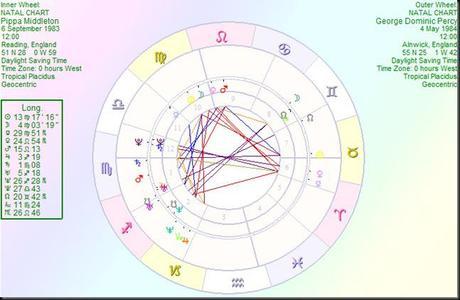 George Dominic Percy (born 4th May 1984) seems to be the chosen one at the moment. He is actually not a bad match as he has a Taurean Sun in earth like her Virgo Sun and his Moon is in Gemini which would go really well with a Leo Moon if she was born before 05.00am. If he was born early in the morning, then his Moon would conjunct her Nodal axis which would initiate an electric attraction between them. There would be plenty of fireworks as his Mars in Scorpio squares her Venus in Leo (that's hot stuff) and her Mars squares his Sun which also lively to say the least.
Looking to the future for Pippa, transiting Saturn is now right in the middle of her Pluto Saturn conjunction, so there are big changes afoot for her this year. Saturn stays around these two planets until October 2012 so it is not beyond the realms of possibility that maybe there might be an announcement about an engagement before the year is out. At the same time that Saturn is hitting these two planets it will also be sextile to Venus and Neptune too. Any major connection to Pluto does indicate a transformation of sorts in one's life and the Saturn return often shows one maturing and taking on more responsibility in life.