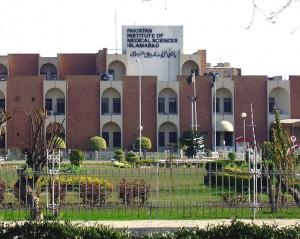 The national assembly on Thursday passed the bill of merging Pakistan Institute of Medical Sciences (PIMS) and Quaid-e-Azam Medical Collage (QAMC) and naming it Shaheed Zulfiqar Ali Bhutto Medical University (SZABMU) with majority.
The members belonging to Pakistan Muslim League-Nawaz (PML-N) and Muttahida Qaumi Movement (MQM) stood up on their seats holding the pictures of Quaid-e-Azam and chanted slogans against the bill.
Federal minister Nazar Mohammad Gondal presented the movement to pass Shaheed Zulfiqar Ali Bhutto Medical University Bill 2013.
Under the bill PIMS has been upgraded to medical university named as SZABMU. The institute will have the powers to confer certificates, diplomas, degrees, and other academic distinctions.
The faculty of medicine Quaid-e-Azam University (QAU) will be transferred to the SZABMU within six months. All the medical colleges and health institutions located in the Islamabad Capital Territory will be affiliated with SZABMU.
President of Pakistan and chairman senate will be the chancellor of SZABMU. The executive director of PIMS will act as vice-chancellor till the appointment. The vice chancellor will be appointed for four years.