On a very subtle plane, color and sound converge and become one. This plane is related to Aquarius and to a supra-cosmic musical intelligence whom the Vedas call Vena the Gandharva. The Vedas say, he merrily sings the "song of light". The Greek Apollo is no other than Vena; through his influence the sound- and light principles of the higher planes are expressed in identical scales.
Meditating on these correspondences, an image arose in me of Apollo with a musical instrument super-imposed on his face and light pouring down from above.
For the painting I chose a black and white photo of a head of Apollo and converted it into light yellow. I found the picture of a beautiful classical instrument, the "Viola d'Amore" (Viola of Love). It is used like a violin and has a sweet, warm sound. There are 6 or 7 playing strings on the top and the same number of "sympathetic strings" below – a beautiful symbol of the 6 pairs of signs of the zodiac or of the 7 planes of creation in the manifest and in the subtle spheres. I placed the instrument on the face of Apollo so that the upper part with the pegs and the head is like a stair towards the spheres of light. There is a second viola merging with the face of Apollo and a part of a nearly invisible third one surrounding the head like an aureole.
For the background, I first took a photo of Uranus and merged it with another one of a star cluster from the constellation Aquarius. Though you don't recognize these elements anymore, they are there in the "background" of this painting. And the light coming from above looks like pouring down from out of the nearly invisible Aquarian pot.
See more pictures on the site with my paintings. If you want to print the image, you can download the file in medium and high resolution format.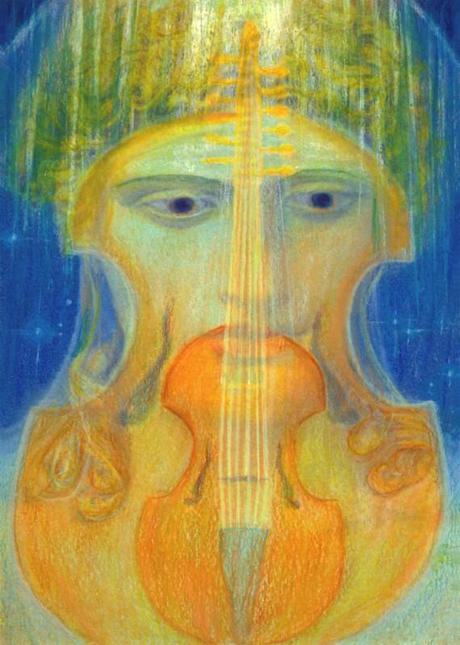 Aquarius – Apollo and the Song of Light