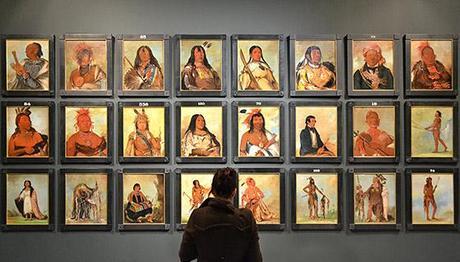 Our George Catlin paintings on display at the National Portrait Gallery in London. Photo courtesy of the National Portrait Gallery.
One of the highlights of our American Art collection are the over 400 artworks in 19th century painter George Catlin's original Indian Gallery. Catlin's work captured the "manners and customs" of Plains Indian tribes in the 1830s. The work has been on display here and throughout the country in a number of incarnations from a traveling exhibition in 2003-2004, online as an educational website, and a book.
For the first time since the 1840s fifty-five of Catlin's paintings are being exhibited in Europe at Great Britain's National Portrait Gallery. The show opened earlier this week and will run through June 2013 when it will travel to the UK's Birmingham Museum and Art Gallery.