Last night, I had the pleasure of seeing Pi, a modern dance performance at Pfefferberg Theatre. There is something about bodies moving through space in exceptional ways that is both delightful, energising and emotional — and this performance was no different.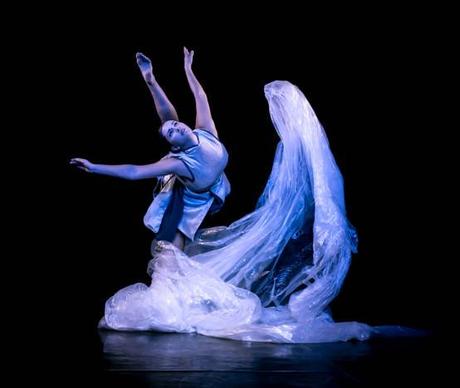 Anna Holmström, Debris, dance, Petricore Movement, Pi, Berlin
" data-orig-size="554,468" sizes="(max-width: 554px) 100vw, 554px" aperture="aperture" />Anna Holmström performs performs Debris
As a writer, it always takes me a few minutes to let go of questions of narrative and story and enter the flow of the piece. But choreographer Anna Holmström does an artful job in creating a structured and engaging performance that expresses different characters, theme and conflict through movement.
The first composition, Dim 4, is about time, presenting different views of the same moment. It snakes through various moods and music — from the resonant and conflictual to jazzy and playful. The five dancers convey complex feelings and relationships without the use of flashy extras — a cardboard object and a net are the only props used.
In Debris, performed solely by Holmström, a piece of plastic takes on a sublime, airy quality as she dances with it. The piece is about the beauty of the ocean, which is becoming suffocated by plastics, and indeed we genuinely become worried for the dancer as she becomes more and more entangled in it. But the emotion that lingers is  the one of sadness that we see in the long, still moments on the dancers face.
Pi is on at Pfefferberg Theatre for only one more night, so grab your tickets for tonight!
Advertisements