Don't forget to click on the images for a larger view
If you enjoy seeing this post please Stumble it in the box to your left. Thank You
As followers of our blog know, I really love Arizona. I had lived there for most of the 1970s and visited many times since I moved. One of my absolute favorite spots in Arizona is Sedona. Located in Arizona's high desert below the southwestern rim of the Colorado Plateau, this wonderful city is blessed with great weather all year, lots of sunshine and great, clean mountain 
air. It sits at the mouth of the beautiful Oak Creek Canyon, a wonderfully unique place. It has massive red-rock formations, as well as the cool, readily running creek. Large green trees dot the landscape creating a beautiful multicolored landscape. 
It was named Sedona by Theodore Carl Schnebly after he and his family moved into the area in 1900 from Missouri. The few families living there convinced him to establish a post office in his large home, which had already become the community's hotel. The story gets a little murky here, some saying he wanted to name it Schnebly Station others saying Red Rock Crossing. It really doesn't matter because the government told him the names were too long and following a suggestion from his brother, he named it after his wife, Sedan. We can only be happy his wife was not called Gertrude!! It was incorporated in 1988. 
I had moved to Arizona in 1976 and visited it for the first time that same year. I immediately fell in love with it and visited from my home in Phoenix, many times in the upcoming years. It has changed much over the years and in my opinion, not for the better, unfortunately.

It now attracts over four million tourists a year from around the world.  In 2011, eleven thousand people live here within the city's total area of 18.6 square miles. All the vast empty desert is now filled with houses, hotels, restaurants and shops that dot the landscape. I understand that it is progress but as a photographer, it is sad to see. I miss the days when I could see for miles with very, very few homes in my view.One of my favorite spots in the Sedona area is RED ROCK CROSSING. It has become a symbol of the American Southwest and is the most photographed spot in Arizona. It has been featured in more than sixty classic Hollywood Films. It is just outside of Sedona on Red Rock Loop Road. When you drive through the gate (there is a small fee for the park), you have plenty of room to park your car and make use of some picnic tables. The last time we visited a few years ago, things had changed. You cannot see the creek anymore from the parking lot as trees and shrubs have been allowed to grow unattended. This is probably due to fundings being cut!We had to walk along a path for awhile and finally found an area where not only we could reach the water but see the main attraction, Cathedral Rock!!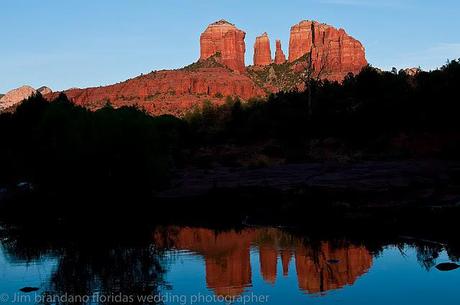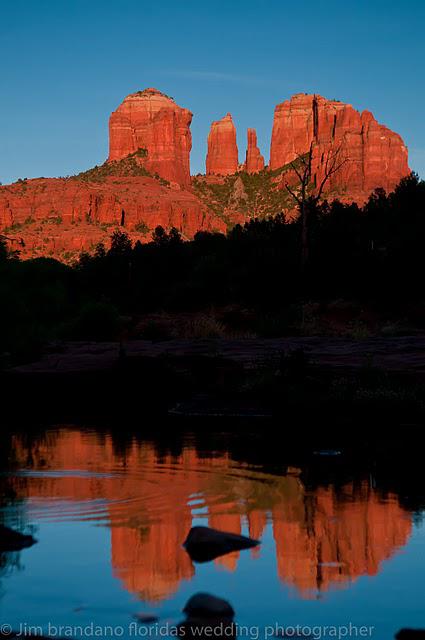 It is a truly beautiful natural structure to see. I have viewed it hundreds of time over the years and I still find it a fascinating sight. 
Having photographed it so many times, I now try and find different ways of photographing it, including standing in the creek, as I did  taking the two images above. 
Earlier that morning, we were on the other side of Sedona making some images in the desert. I could see the back of Cathedral Rock in the distance. I made this image knowing we would be going there later in the day. Cathedral is in the best light after 5PM and we would be there to see it.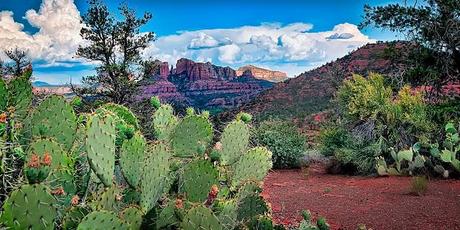 This time, we thought we would try making images off Red Rock Loop, the road leading into the park. There are some cutouts where you can park, picnic and see Cathedral Rock in the distance. We pulled into one about halfway to Cathedral. We parked and I took my Nikon D300, my Nikon 70-200 mm VR lens and my tripod. I headed over to find a spot where I could see a view that interested me.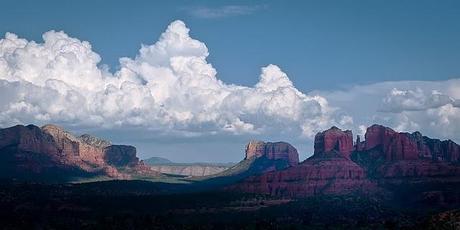 As I have written before, I love dramatic skies and this sky was all that!!! I could take a closer image with the zoom out to 200 but I wanted to see the entire valley. I have taken many closeup views from down at the creek and was looking for something different. I love the images from below, like this one, but felt like I had been there and done that!! I needed to kick my creative cape; make it work a little harder. Sometimes the best way to do that is to take a familiar scene and find a different angle.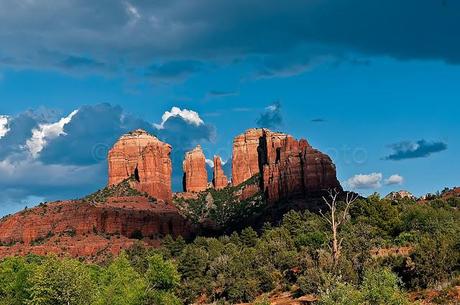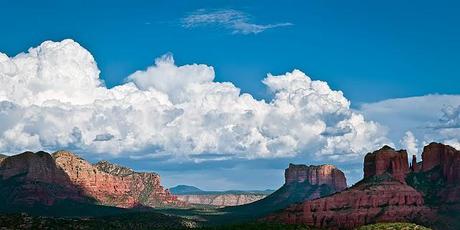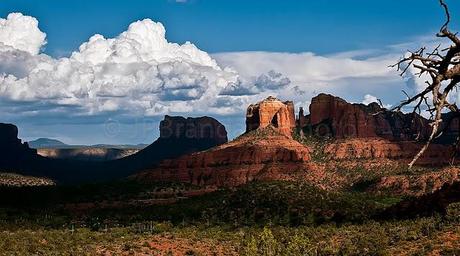 As the clouds came in, shadows would be cast in different 

     locations changing the look in each image I took.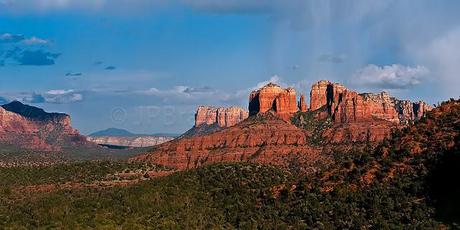 Then I saw something exciting, a rain cloud and rain falling from 
   it: not only falling from it but right on Cathedral Rock!!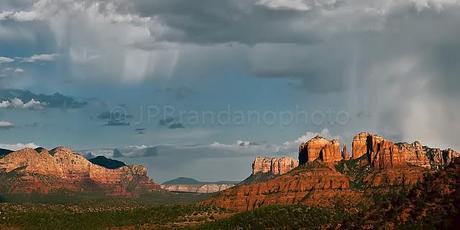 Luckily we were far enough away that the rain was not touching  
  us. I kept shooting as the cloud formation and the light kept 
  changing. You could now see rain falling across the valley from   
  left to right.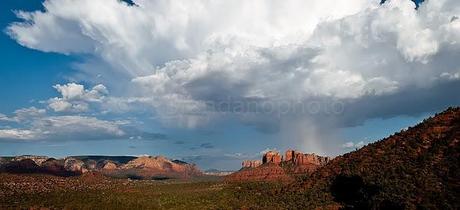 Then I noticed how the clouds had changed and become really dramatic, so much so that I changed my composition to include more of the sky. This cloud was one of the most dramatic and  amazing clouds I had ever seen and it still is to this day. It's really a wondrous sight to witness.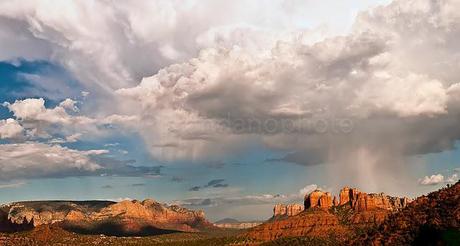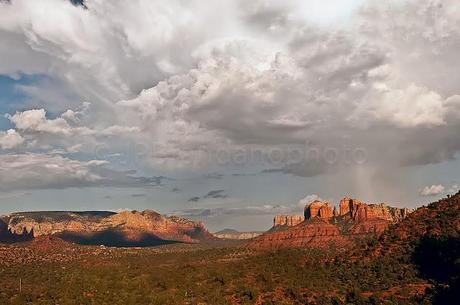 On this day, I was metering in manual and using my built in spot meter. I metered off the gray in the clouds and then adjusted as I needed.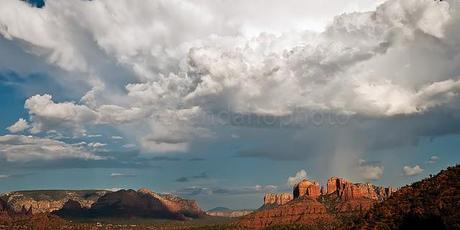 To this day, I am still enthralled when I look at these images. They make me appreciate nature even more. I am just in awe of nature's majesty. I still believe that one of the places to witness that majesty is Sedona, Arizona. If you ever get a chance, please do not just drive through it. Stop, stay a few days, be out early in the morning and late afternoon. You will see amazing structures, colors and if you're lucky, a rain shower. Oh yes, don't forget your camera!!!