With mesmerizing mountains, azure blue lakes, verdant valleys, fairy tale like villages and breathtaking landscapes, Switzerland, at the risk of sounding cliched, is the epitome of enchanting beauty.  Located in the heart of Europe, this landlocked country offers the perfect blend of natural beauty, bucolic charm coupled with contemporary urban luxury.  The recently released U.S. News & World Report's annual best countries rankings has Switzerland (not surprisingly) topping the list for the second consecutive year. With several aces up its sleeve, Switzerland surprises you with its hidden gems each time you visit. The fairy tale like village of Iseltwald is one such gem that I discovered when I visited the country last autumn.
A view of Iseltwald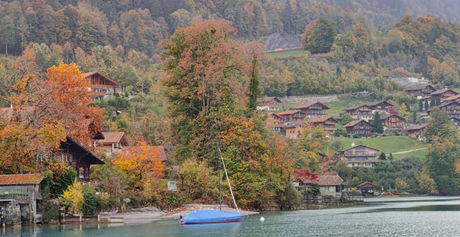 Located off the southern shore of the picturesque Lake Brienz, Iseltwald is a blissful village in the Bernese Oberland region of Switzerland.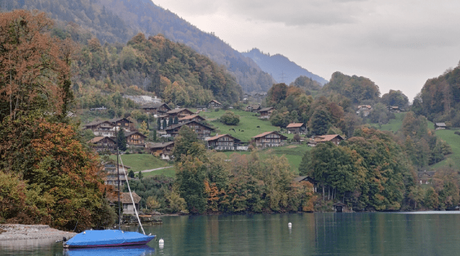 A view of Iseltwald village
" data-orig-size="1610,897" sizes="(max-width: 663px) 100vw, 663px" aperture="aperture" />A view of Iseltwald village
A street in Iseltwald
Replete with quintessential Swiss charm, the village is peppered with typical wooden chalets, boutique cafes and shops. While here you can also visit the famous Ballenberg museum.
Inside Iseltwald village
All this overlooks the utterly stunning Lake Brienz which is known for its turquoise blue waters.
View of Lake Brienz
Situated just about 13 km from the city of Brienz, Iseltwald is home to just about 500 people and is a perfect place to sit back, enjoy nature, go fishing and spend time with friends and family by the lake side. Do not miss taking a cruise on the Brienz lake to soak in the natural beauty all around.
View of Lake Brienz from Iseltwald
It is interesting to note that the lakeside village of Iseltwald was the place where an important romantic scene in the popular K-drama series Crash Landing on You was shot. Since then the town has seen an influx of Asian tourists mainly from Korea, Thailand etc. There have been serpentine queues to take a picture on the wooden pier which is strategically against the breathtaking, snow capped Alps. This was the point where the original scene was shot.
The famous wooden pier on Lake Brienz in Iseltwald
To read more about other unique Swiss towns click here and here. Click here to read about other unique things to do in Switzerland.