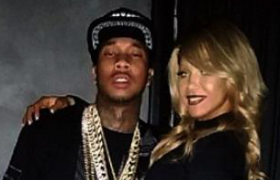 The pettiness just refuses to cease. After announcing the release date of his new album, Tyga proved that he still has enough time on his hands to keep the feud going with his pal Drake.
According to TMZ, Tyga went as far as to get Drake's ex-girlfriend, eye candy Dollicia Bryan for his next music video entitled "Make It Work."
Check out him and Miss Bryan posed up with her butt in his hands below.