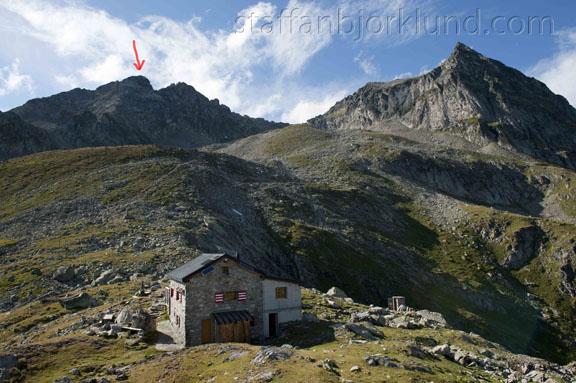 Do you see that mountain with the arrow? That's the Klein Augstkummenhorn in Switzerland. Ryder-Walker trip leaders Staffan Bjorklund and Daniel Sundqvist summited the KA during their free time between hiking tours.
According to Staffan:
After three days of very "interesting" weather, we finally managed to summit the Klein Augstkummenhorn. We'd been weathered out of two attempts during the previous days. Thunder and lightning don't exactly go hand in hand with climbing, so we drank liters of tea in the warm and cozy Wiwanni Hütte and enjoyed some nice social games. Once on top, we had a great view over the entire Rhone Valley and some 4000 meter peaks including the Weisshorn (4506 m), Zinalrothorn (4221 m) and the Dent Blanche (4356 m). The most striking, however, was the view of the Bietschhorn (3934 m). The Bietschhorn doesn't belong to the 4000 meter club, but we couldn't care less.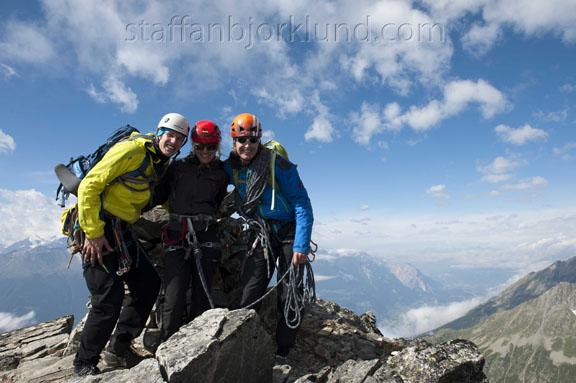 Right on!
You can follow Staffan at his personal blog: staffanbjorkland.com


Images: Top: Klein Augstkummenhorn with the Wiwanni Hütte in the foreground.

Bottom: On the summit of the Augstkummenhorn. L-R: Staffan Bjorklund, Maria, Daniel Sundqvist.