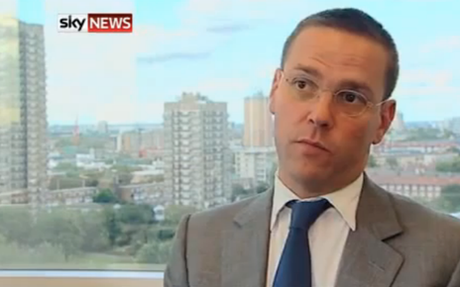 News Corp. COO James Murdoch. Photo credit: Sky News
James Murdoch has been recalled by the Culture, Media and Sport Committee to give further evidence into phone hacking. The likelihood of Murdoch returning to face the music in the horseshoe of the committee has been sky-high since ex-News International executives Tom Crone and Colin Myler contradicted his testimony when they insisted that they had discussed the crucial 'For Neville' email with James Murdoch. The 'For Neville' email suggested that hacking was widespread at The News of the World. At his first committee appearance, Murdoch claimed not to have had knowledge of the email.
"Clearly there are different accounts which we've heard we've spent some time questioning Tom Crone and Colin Myler last week about their version of what happened, and therefore I think it's likely that we are going to put that and to hear more from James Murdoch about how he recalls the meeting," said the Committee Chairman John Whittingdale.
James Murdoch appeared at the Committee for the first time in early July, alongside his father Rupert Murdoch, chairman and chief executive officer of News Corp. "James Murdoch is happy to appear in front of the committee again to answer any further questions that members might have," a News Corp. spokeswoman told The Wall Street Journal on Tuesday.
Associated Press reported that News Corporaption shares fell 1 percent in premarket trading in New York on Tuesday on word that James Murdoch will be recalled for a second grilling.
What Murdoch can expect. Writing at The Spectator's Coffee House blog, David Blackburn forecast what is in store for James Murdoch: "Committee chairman John Whittingdale has said that Murdoch will be asked to clarify this and other questions. Those other questions probably relate to Clive Goodman's allegations that senior executives had knowledge of phone hacking long before they have so far admitted, and Harbottle and Lewis' insistence that elements of Murdoch's original evidence were 'hard to credit.'" Blackburn argued that it could well boil down to a case of Murdoch's word against Crone and Myler's. "Either way, there appears to be a determination in parliament that this saga continues to run."
Murdoch will stick to his testimony. Casell Bryan-Low and Paul Sonne of The Wall Street Journal suggested that Murdoch will likely stand by his original testimony about the 2008 meeting with Messrs. Myler and Crone, which he said "focused" on why the company should settle a privacy-related lawsuit with former football player Graham Taylor. The paper reminded that Murdoch has said, "they didn't show him the e-mail or tell him that the wrongdoing extended beyond a former News of the World royal correspondent (Clive Goodman) and a private investigator on the paper's payroll (Glenn Mulcaire) who had been imprisoned in 2007 for phone hacking."
'For Neville' email could be the clincher. Ian Dunt of Politics.co.uk spelled out why the 'For Neville' email is so crucial in helping establishing responsibility for phone hacking: "The 'For Neville' email, which was described by committee chairman John Whittingdale as 'one of the most critical pieces of evidence in the whole inquiry,' reveals that a junior reporter was asked to transcribe intercepted voice communications. It proves that at least one other person – the junior reporter – was aware of phone-hacking beyond the 'one rogue reporter,' Clive Goodman, who had been jailed for phone-hacking in 2006. The email strongly suggests that someone else was aware of the practise because it contains a request for the transcript."
Far-reaching tentacles. CNN's This Just In news blog reported on phone hacking's "far reaching tentacles" and said that, "when the dust settles, the question is ultimately: At the end of this all what will Murdoch's media empire look like? Will it be nothing more than a dismantled former conglomerate or will it eventually be able to regain its footing?"