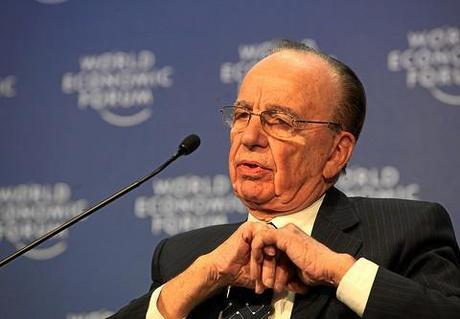 Patriarch Rupert Murdoch. Photocredit: World Economic Forum http://www.flickr.com/photos/worldeconomicforum/3488040165/sizes/m/in/photostream/
There seems to be no end to the phone hacking scandal that embroiled the now defunct News of the World (an outlet of Rupert Murdoch's media empire, News Corp.) Police officers (in the delightfully named "Operation Weeting") investigating Glenn Mulcaire, the private detective jailed for phone hacking in 2007 (yes! four years ago!), have now found almost 6,000 names (5,795, to be as exact as the police, but they say that a precise number is impossible to get) amongst Mulcaire's notes.
Though this doesn't necessarily mean that all those people were hacked, this is still much higher than the 3,870 discovered in July – and much, much higher than the "handful" that were originally thought to have been targeted. And it could go even higher. News Corp has revealed the financial cost of the hacking scandal, reported The Financial Times.
Amongst those known to have been hacked, and included in the inquiry overseen by Lord Justice Leveson, are actor Hugh Grant, socialite Jemima Khan, singer Charlotte Church, actress Sienna Miller, publicist Max Clifford, murderer Harold Shipman's son Christopher, ex-minister Lord Prescott and ex-MP Mark Oaten.
Meanwhile, the Murdoch clan has been having troubles of its own, as an article in Vanity Fair by Sarah Ellison, available in pdf form here, promises to reveal that they had family counseling to groom Rupert Murdoch's younger son James for succession to Rupert as CEO of News Corp. (It all sounds rather feudal and Shakespearian, doesn't it – Murdoch: A Tragedy in Five Acts?). Elisabeth Murdoch refused to join the board after News Corp acquired her production company, Shine, and suggested that James Murdoch and Rebekah Brooks (a News Corp executive who had been editor of News of the World at the time) should resign over the hacking scandal.
It doesn't look good for PC Plod, suggested News24, which took the line that the myriad hordes of new potential hackees is a "further embarrassment" for the Metropolitan police. The site reported that two of the "most senior officers have resigned," since they continued to ignore the signs of nefarious goings on at the News of the World.
"Maybe you should go too," said Rupert Murdoch to his son James, before changing his mind.
They need more than a shrink. Revelling somewhat in the internecine strife, Alexander Chancellor in The Guardian said that Elisabeth Murdoch's ruthlessness was not ruthless enough, since she cares "too much about family harmony." Apparently the Murdoch siblings went into counseling in order to be able to make Rupert mentor James, rather than undermine him. This sounds "muddling" – not least because it doesn't square with Elisabeth's attempts to get James ditched. The picture's clear, though – a "doddering old man" unable to give up power because his family is riven with division. Whilst the Murdoch siblings agree James is the best successor, they think he's too "aggressive and alienating". James' hold on succession is "increasingly tenuous" – and that's something no psychologist could ever help with.
What would Rupert think? It's a delicate issue, said John Cook on Gawker, as to which of the Murdoch siblings could wrest control from "their father's cold, dead embrace." James is in trouble – he's been lying to Parliament. Lachlan's laughing in Australia, having got shot of the whole business yonks ago; and Elisabeth keeps undermining James, even though she's not prepared to do the job. Imagine how Rupert would feel when he finds out his offspring took on "some poofter shrink to work out their issues?" After years of training them "to solve problems via ruthless backstabbing and outmaneuvering," "they decide to talk things out? Shame."
And what about the X Factor? The Vanity Fair piece, said Mimi Turner on Hollywood Reporter, shows a strange family, where the children are on the one hand devoted to their patriarch, yet "intensely doubtful of the extent of his love." They don't like being hurled into positions "without his protection" – they've often clashed with senior Murdoch execs. Yet, according to a "close family confidante", they still believe that James Murdoch is the best successor, with Lachlan as chairman. And there's someone waiting in the wings, too – Rupert's third wife, Wendi Deng, who, according to the source, is "an undeniable X factor in any discussion about the future."