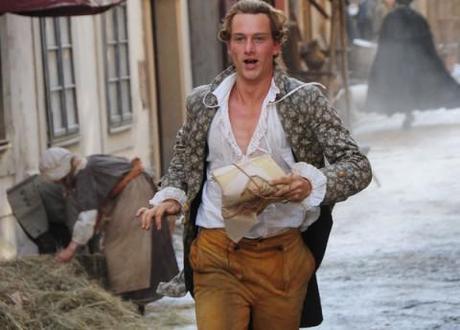 Bad-boy Goethe has to run to his exams. Photo Credit: Warner Bros. Germany
"When you find yourself, you'll soon know how to live it," the demon Mephistopheles tells Goethe's Faust when he complains he does not know how to live life in Faust Part I. A newly translated 2010 German film pegged for a November release, Young Goethe in Love, tries to show the Romantic poet finding his own legs in life, love and poetry.
Philipp Stözl's movie follows Johann Wolfgang Goethe (Alexander Fehling), a failed poet and law student, from his disastrous law school days to a legal job in Wetzlar. Here, he falls in love with the charming Lotte (Miriam Stein), drinks a lot with his roommate Wilhelm Jerusalem (Volker Bruch) and impresses his stiff boss Albert Kestner (Moritz Bleibtreu), before fighting a duel with him over Lotte. Sparsely furnished and aping much from recent Anglo-American films that focus on the genesis of literary Romantics (see Becoming Jane or Bright Star), the film also tries to channel Shakespeare in Love. In doing so, it's sure to invoke the wrath of literary purists — much in the story has been changed to suit the rom-com-cum-college japes vibe that the film goes for.
The critics are divided on this one. Some love it, while others are wholly unimpressed. Here's the pick of the bunch:
Screw history, Stözl done good. John DeFore at The Hollywood Reporter adjudged that the film provided quality entertainment. He admitted that the film does make up a great deal (even the duel between Goethe and Kestner) and "suffers from the occasional cliché", but that it's "easy to be carried away by a period love story whose appealing leads and German countryside make historical ties almost beside the point".
'Well plotted and impressively mounted'. Meanwhile, over at Variety magazine, Boid Van Hoeij said it was "appropriate" that a film about Goethe should be "largely fictitious, occasionally tempestuous and, of course, very romantic", given Goethe's fame as a Romanticist. Van Hoeij enjoyed the way the scriptwriters were able to "expertly alternate romance, humor and drama without losing their grip on the characters and their dilemmas", the film's "pacey" and "energetic" editing and music, the "seamlessly" blended sets and, importantly, the "freshness and energy" in Fehling's performance.
Wacky and fun, despite sillinesses. Despite the "silly Sturm und Drang boosterism" and the prevalence of the "literary-period-piece cliché" in the film, The Village Voice'sMelissa Anderson felt that "there's still something commendable, if daffy, about trying to turn the high holy father of German literature into a rock star".
At first 'irreverent', then 'irrelevant'. "You can't accuse Philipp Stölzl's portrait of taking itself too seriously," conceded Time Out New York's David Fear, and the "rom-com" aspects are "cool". When Goethe penned his first work, however, and the movie "kicks into high gear", Fear was unimpressed and asked: "where's a lets-make-a-deal Beelzebub when you need one?"
Thoughtless. We don't need "one more tepid biopic about a real life artist that fails to either shed any insight into the artistic process or explain why the subject's works matter in the first place," opined Slant Magazine's Andrew Schenker. Stölzl's film fails to evaluate Goethe or elucidate his "mystical" creative process — all the film seems to tell us, he argues, is that "monetary success" is "the inevitable reward for talent".