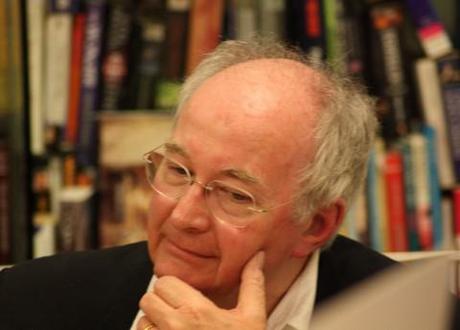 Philp Pullman: master of fairy tales. Photo Credit: Flickr.
The background
"I'm in the fairytale business," author Philip Pullman once told BBC News, and these days, that's literally true. After the huge success of His Dark Materials, the last of which was the first children's book to win the prestigious Whitbread Prize in 2002, Penguin Classics commissioned the author to re-tell the iconic Grimm fairytales. It is a task which he has taken to with aplomb, having previously written versions of Puss in Boots and Aladdin, as well as four original fairytales.
Pullman's tales are among the classics – unlike the cache of 500 previously unseen fairytales uncovered earlier this year.
'Grimm not Pullman'
The author is keen to stress that these tales will not be dramatic re-workings or modernisations, but an attempt to retell these classic stories with a fresh clarity. He tells BBC News that his new work is "Grimm not Pullman," his aim being simply to "get back to the story and just tell it in modern language."  The Huffington Post reports Pullman as saying: "I'm telling the best of the tales in my own voice, and I'm finding it a great purifier of narrative thinking, rather as a pianist relishes playing Bach's preludes and fugues as a sort of palate-cleansing discipline."
What makes a good fairy tale?
Pullman's affection for the Grimm tales is for their mastery as pure stories; devoid of embellishments and superfluous details. It was the ability to tell these stories in this manner that drew him to the project. He wrote in The Guardian: "My interest has always been in how the tales worked as stories… I just wanted to produce a version that was as clear as water. My guiding question has been: 'How would I tell this story myself, if I'd heard it told by someone else and wanted to pass it on?'" He gave The Guardian a crash course in how to write a fairytale: "[S]wiftness is a great virtue in the fairy tale. A good tale moves with a dreamlike speed from event to event, pausing only to say as much as is needed and no more." Don't expect any character development or psychological intrigue either: "The tremors and mysteries of human awareness, the whispers of memory, the promptings of half-understood regret or doubt or desire that are so much part of the subject matter of the modern novel are absent entirely…. The tale is far more interested in what happens to them, or in what they make happen, than in their individuality."
A classic in the making
Pullman's approach appears to have been a success. The Telegraph noted, "Pullman has wisely changed the tales very little. But he does sprinkle them with new imaginative details." The Sunday Times heaped praise upon the collection, observing that Pullman navigates these stories "with a skill that seems effortless, but in fact conceals considerable cunning and craft…Never putting a foot wrong, the result is a magical complexity-in-simplicity that is sure to become a classic in its own right."