Colette and I (and at the beginning, while they were preparing for and actually doing the Broad Street Run, kids and grandkids) had several days in Philadelphia.  I had, I thought, carefully triangulated meal/resto recs so we would really sample the best; but.....it was not to be.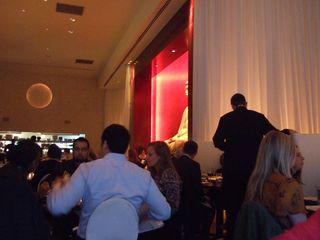 The tops was assuredly Steven Starr's
Buddakan
, an incredibly noisy (for a Zen/Buddistically-themed place) hipster joint which has its moments of pretention (saki which is chilled [sic] to achieve its tasteful perfection) but utterly divine fusion food; with items such as delicate sashimi and a huge calamari salad, monkfish, black cod, duck breast and tuna presentations. It was also our priciest meal, coming in at $134.78 a couple with a bottle of wine and no coffees/etc.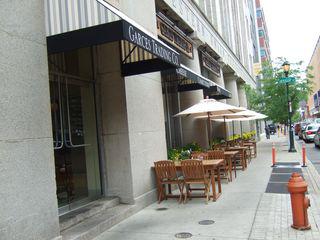 The next and coolest place was clearly the GRG Group's
Garces Trading Company
which patterns itself on a French bistro/bar/hangout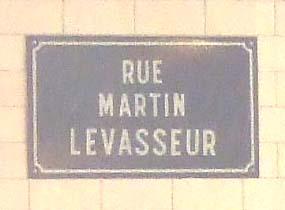 with Parisien street signs, cheese and charcuterie plates and the like.  It has wines in a chilled walk-in wine bin from all-over except from the Americas (which my two European guests were frustrated by).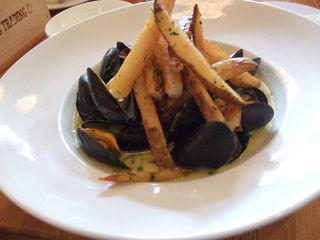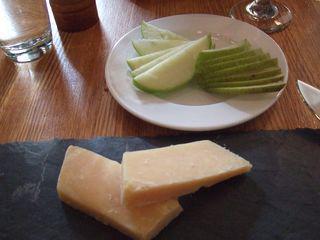 My two pals had respectively, a soup (bread, garlic and some carrottish-hued thing) and cheese plate of 3 domestic cheeses while I had the moules with frites on top (a new presentation or me) and some Cabot cheese - all superb and well worth going back for.  With two bottles of wine and two "Milanese" (huh?) sangrias, our bill for a couple was $113.64.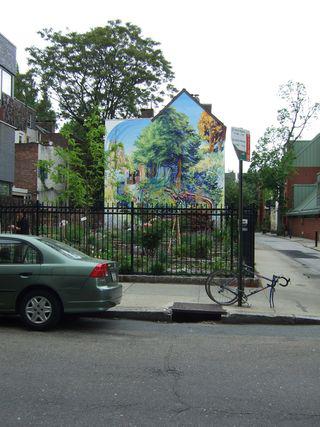 From there, I'm afraid it was all downhill, so much so that Colette bailed out before my congress was over.  Above, however, was something pointed out to my by my European friends - the wonderful street art that is sprinkled all over downtown.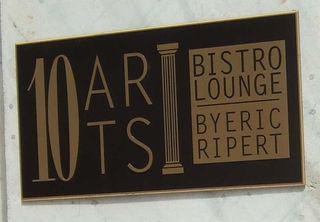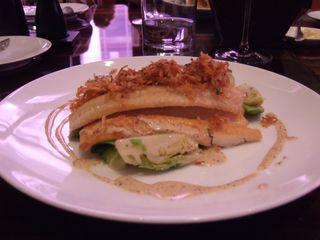 At 10 Arts by Eric Ripert the wine and food (I had a green salad, trout and beignets) was actually pretty good, but the wait between courses was insupportable.  I shall never return, even if paid for, as my meal was, because of my noble service to my professional organization.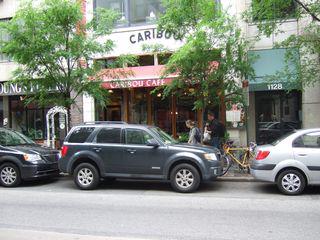 The
Caribou
was pretentiously French and my
fried (I swear) ray and beans quite good, but the Sunday brunch trumpet player needed to undergo several decades of training at the Curtis to learn to not disturb the animals.  Our bill for two here with a bottle of wine, was $80.05.
Perhaps our most anticipated meal was at the Farm and Fisherman, a relaively new restaurant that everyone raves about, where we just didn't get the hoopla.  With a bottle of wine, the bill per couple was $66.96.
Colette ate out with our daughters at perhaps the most heralded place in the city - Vetri - and I quote "unquestionably Philadelphia's top Italian restaurant" - and absolutely hated it and
meals at the Joy Tsin Lau and Honey, enthusiastically recommended by our concierge for our family, were dreadful.
The absolute bottom of the barrel, however, was a Harvard reception at the Downtown Club where plonk was not only undrinkable but $8 a glass.  Ah, Fair Harvard, I fear Larry Summers has left his mark of shame.