Yesterday I referenced an exhibit at the Philadelphia Flower Show that grabbed my attention more than any other and also appeared to be the most polarizing exhibit at the show. I made it a point to carefully listen to as many visitors' comments as possible as they approached this controversial display. The comments ranged from "It's an ugly mess of weeds" to "It's a sea of dead plants" to "It's anti-color" to "I totally get it". Personally, the first thing I said upon seeing it was "Kind of looks like my backyard right now".
Guess I should explain ...
The display, created by Scape Design, is based on the following painting: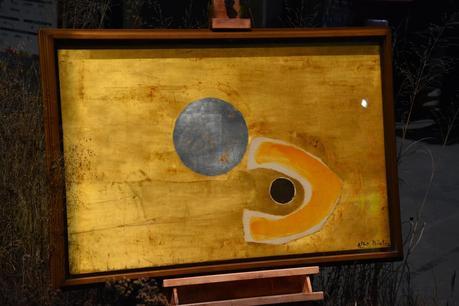 Crazy you say? Allow me to continue.
This painting, created by famed artist Albert Diato, was discovered within the private collection of Prince Albert of Monaco and is the inspiration for the garden display.
The water-filled silver/gray bowl represents the artist's ceramic works and is intended to represent the bright Mediterranean light: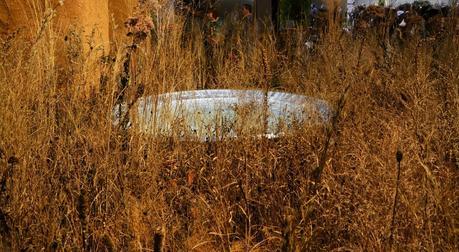 The curved orange block in the painting is interpreted through the use of a "cob wall" that represents the artists time spent in Afghanistan: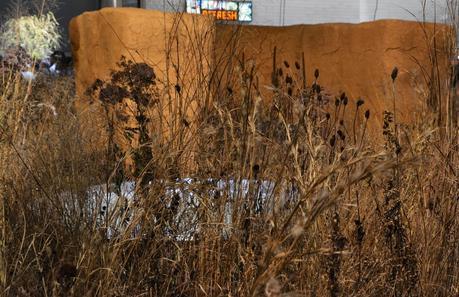 And the black circle in Diato's painting is imagined as garden seating; a burnt black log that is intended to not be inviting, inspired by the artist's desire to work in solitaire: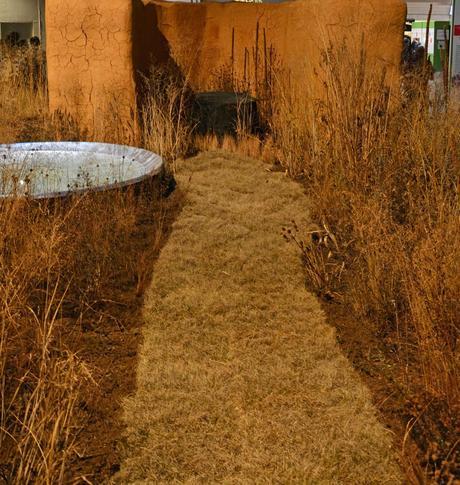 After reading this information and absorbing it, I was fascinated by the display. The interpretation by the designer is way cool and such a departure from all of the other color filled exhibits at the show. I dig the anti-color (although brown is a color last I checked).
Of course as much as I loved the "artistry", I was most fascinated by the use of the plants. The exhibit utilized all sorts of ornamental grasses (mostly Panicum aka Switch Grass), Rudbeckia and other "spent" plants highlighted by their seed heads: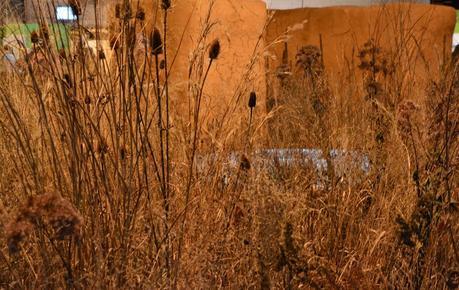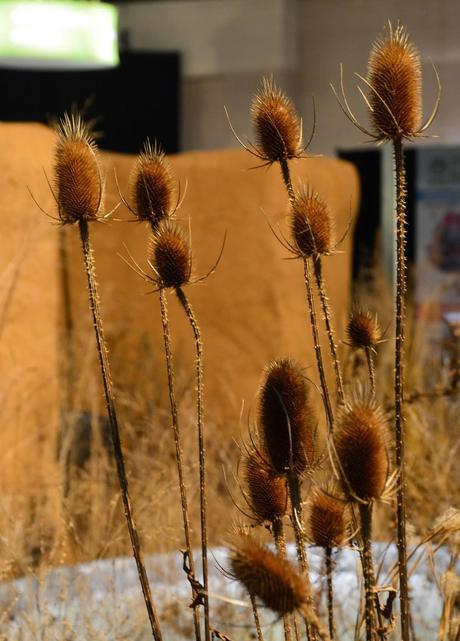 Not what you expect to see at a Flower Show, eh? As I mentioned previously, it sort of looks like my own late winter garden right now. Beautiful in its own way and a really cool interpretation by the designer.
I kid you not, I spent a good hour lingering near this display just to enjoy the visitors' reactions. Once the exhibit comes into view, it looks like this: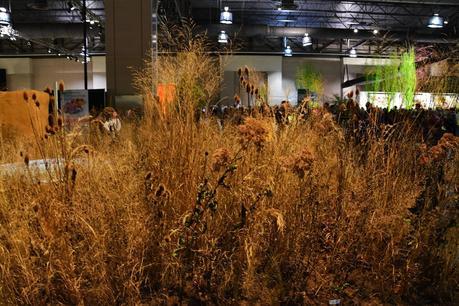 It immediately set people back and evoked such strong opinions. My biggest regret is that I didn't personally interview these people so I could share their exact thoughts with you.
So what do you think?