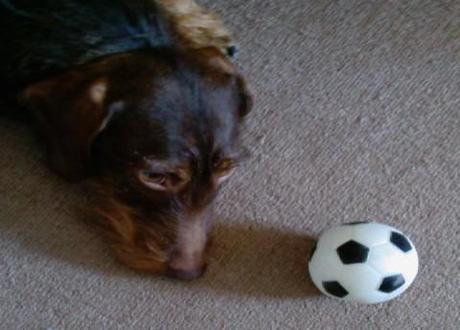 Can this dog predict a winner?
The background
Two years ago, Paul the psychic octopus accurately predicted the results of Germany's eight World Cup matches – and now, animal owners across the globe are trying to recreate the phenomenon with their own pets around Euro 2012, much to the consternation of animal welfare groups.
Thankfully for the German would-be pet psychics, Germany lost to Italy 1-2 Thursday night, likely putting an end to the mania there, and the Euro 2012 is due to wrap up on July 1. But in the meantime, is it cruel to use your hamster to predict the outcome of a sporting event?
Pet prophesy is out of control
Elephants to alpacas, pythons to pigs are being forced to "predict" the results of the Euro 2012 football championships currently underway in Kiev. Lin Ping the panda, at the Chiang Mai Zoo in Thailand, mauls the flags of countries she predicts will win the match; Ado the python was asked to choose between two rats, one representing Germany and the other Denmark, by an internet radio station in its bid to harness his innate animal psychic powers. Reported The Guardian, animal rights groups worry that the animals are being forced to do things "unnatural" to them just so their owners, or the TV or radio stations promoting them, can earn a bit of publicity. Marius Tünte of Germany's Deutscher Tierschutzbund told the paper, "There's hardly an animal that's not being used as a prophet. From pigs and parrots to hamsters to dogs, everyone's at it. We've got elephants kicking balls into nets or forced to do handstands; chimpanzees dressed up and paraded on TV. In many cases the dignity of the animals is being completely ignored, and they're being forced to do things that are totally unnatural to them and in some cases are causing them to suffer."
Can it really harm the animals?
Sure, it's a bit undignified, but animal prognostication is just a bit of fun, right? Not so, said Benazir Suraiya, of PETA India. "These intelligent, sensitive animals are not props or toys to be used for entertainment," she told the Wall Street Journal, adding that zoos and others who make animals perform tricks in "desperate bids to bring business through the door" are causing the animal more confusion and stress than necessary. For example, Big Huat, an arowana fish from Singapore, suffered a "bad case of nerves" during his meet the press moment when he was frightened by the camera flashes.
It's to promote conservation, not make money
Paul the psychic celephod's fame brought thousands of visitors to a small aquarium in Oberhausen, increasing awareness of the octopus and other sea creatures. Prasertsak Boontrakulpuntawee, chief of the Chiang Mai Zoo's panda research project, told the Wall Street Journal, that these kinds of publicity events are meant to promote conservation and draw attention to the plight of these animals. And Paul seemed to survive his brush with fame – despite earning himself the opprobrium of none other than Mahmoud Ahmadinejad, president of Iran – though he later died of natural causes (we believe).
Who's making predictions?
Emma the pig from Freiburg, who accurately predicted Germany's semifinal loss to Italy, has so far had the best record
Ferret and Mormel, otters from a zoo in Aue, Germany, who have been spotty in their accuracy
Traudl, a goat who has landed a job at a Bavarian radio station
Tik the seal from Bangkok
Citta the elephant in Poland
Funtik the pig, in Ukraine
Remember Paul?