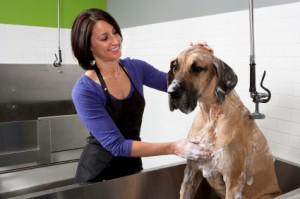 If you're new to the pet grooming world or involved in a similar pet-related business, it's extremely important to gain and keep clients. Pet owners are a different breed so you need to adjust your methods to address their priorities. There are a few simple, common-sense ways to ensure that you're marketing effectively to pet owners. Breaking into the business can be tough, but taking the time to follow these easy steps can help you get off to a good start.
Be Professional
It should go without saying that being professional is hugely important to any new business. This involves more than just appearing professional. It's not enough to just open your store and put up a fancy sign. If you're a pet groomer, this may include online training or taking community college classes to become certified. Making sure you continue regular training to stay up to date with your certification can go a long way toward true professionalism. Being personable helps you appear professional as well. Know your clients' names. Just as important, know the names of their pets.
Be Friendly
Being friendly with clients when you're in business should be a no-brainer. But you'd be surprised at the number of folks who just don't seem to get it. People normally have a choice of businesses to patronize and it doesn't take a rocket scientist to figure out that people prefer friendly over surly. And you need to demonstrate that friendliness to pets as well as to their owners. You probably got into your pet-related business because you really love animals. But that isn't enough.
You need to remember to demonstrate that to your clients. Let your love of pets shine through. It may be such an integral part of your life that you assume it's evident to everyone. But don't make pet owners have to guess. Keep photos of your pets in the office in prominent places to work as a visual reminder that you love pets just like they do. If you keep photos of your family in the office or your waiting room, you can even hang photos of your pets alongside family photos.
Getting Your Message Out
It's hard to attract new clients if no one is aware that you exist. Advertising is important and there are several low cost but effective ways to advertise that you might not initially think of. You might consider partnerships with other businesses in your area. If you have a pet grooming business, a logical partnership might be with another business which sells pet foods and pet-related products but isn't in direct competition with you. If you can partner with a local pet store they can promote your store to their existing clientele and help provide a big boost to your business.
One way to get clients to really appreciate your services through cooperation with a local pet store is to offer free grooming classes to the community on a frequent basis. You might think about providing free treats to people's pets as well.
If you can partner with a veterinary clinic, new clients are much more likely to trust you the minute they walk through the door. It's important to earn that trust, of course, by being open and honest with your partners about the way you treat your furry clients.
If you can incorporate these basic commonsense ideas into your small pet-related business, you should be able to get a head start on attracting a loyal following.