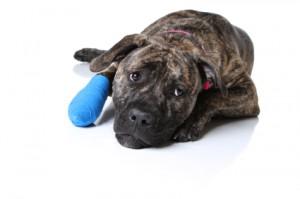 In the wide world of insurance coverage options, you may never have considered that there are plans available for your pets.  Why not?  You insure yourself, your family, your house, your car, even your jewelry.  Why wouldn't you insure your best friend, as well?  The truth is that most people don't get their pets the coverage they may need because they either don't know about pet insurance or they think they'll never need it.  But it pays to know that there are a couple of different types of coverage for your pet and that they can protect you, the owner, from some pretty expensive payouts down the line.  Here's what you need to know to make an informed decision about whether or not to purchase pet insurance.
First, there are two ways to cover your animals and they deal with two very different types of insurance.  The first one is based on liability.  When your kids damage school property, you are liable for the cost of repairs because your child is a minor and unable to take legal responsibility.  The same goes for your pets.  If your dog or cat gets out and causes damage to a neighbor's yard (or to your neighbor) you will have to foot the bill for repairs or medical costs associated with the incident…unless you have pet insurance.  You can secure such coverage through your homeowners insurance, so call your provider to find out what they offer.  Most can give you a number of options, although your payment may be based not only on the amount of coverage and the deductible, but also the breed of animal you have chosen (since some dogs, for example, are thought to be more aggressive).  Think of it like car insurance; if you drive a sports car you're going to pay more than if you own a sedate minivan.
The second type of insurance could be more closely related to the health insurance that people enjoy and it can be purchased through either your veterinarian's office or a private company (although you're probably better off going through your vet if the business offers it).  The benefit, of course, is that you won't be on the hook for crazy medical bills should your animals suffer injury or illness while under coverage.  And there are just about as many options for insurance as you might find with your own health plan.  You can pay monthly to have their annual visits, tests, and shots covered (and probably save a few bucks along the way) or pay more to cover such possible expenses as surgery and medication, for example.  And much like human health insurance, premiums will go up with age and/or payouts.
Pet insurance isn't a bad idea, especially if you have a breed that is known to be aggressive or comes with potential medical issues.  Still, many people don't find it necessary to secure either form of insurance.  It really depends on your particular pet and how attached you are.  If you own indoor cats, the likelihood that you'll need liability insurance is pretty slim.  But if you have a large breed dog that is known for hip problems, then perhaps health insurance is in order.  The decision is yours, and you'll certainly have to weigh the pros and cons, but insuring your pet in one way or another could end up paying off big in the long run for minimal expense now.