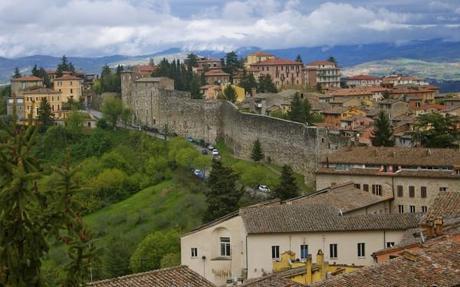 Perugia, the capital city of Umbria, oozes with charm from almost every corner, but there's also chocolate and plenty of scandal as well!  There is the requisite town wall, a good chunk of which is still standing (pictured above).  The city's Piazza which is the place of many events: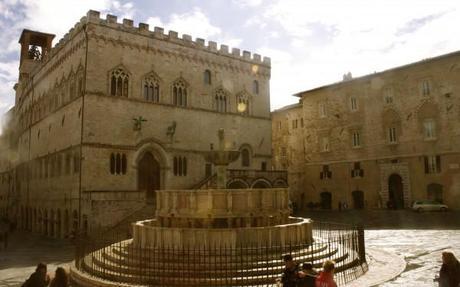 Perugia's Piazza
Interesting architecture that hints at the city's old age of 310 or 309 B.C.: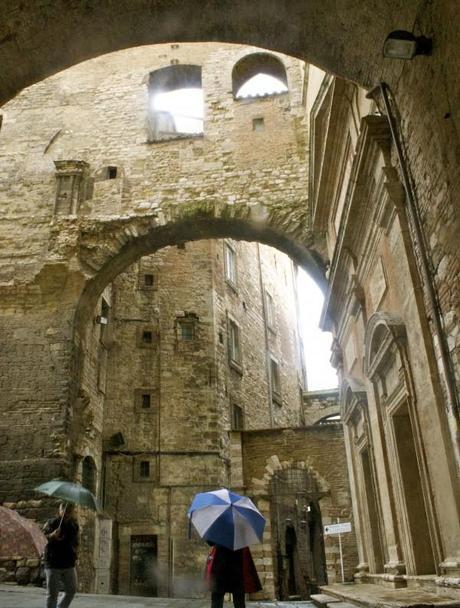 Wandering through the streets of Perugia, you find historic buildings and interesting architecture everywhere.
Even the roofs in Perugia have character: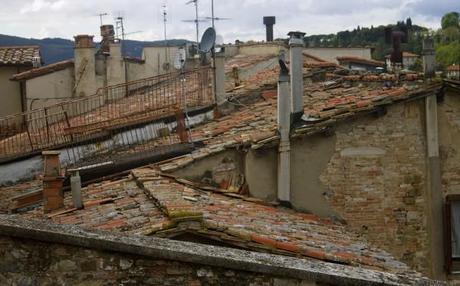 Even the roofs in Perugia have character.
And only in Perugia, would something as mundane as an aqueduct be worthy of a photo opp – but of course the aqueducts in Perugia date back to the middle ages!: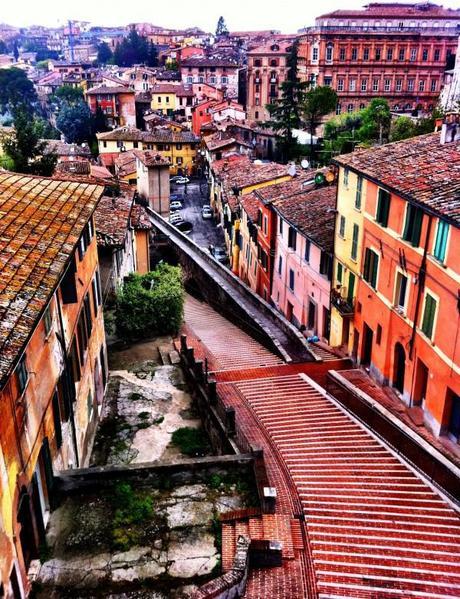 Only in Perugia...even something as mundane as the medieval aqueducts are worthy of a photo opp!
Now that I've hopefully convinced you of Perugia's charm, it's time for the chocolate.  You know those Baci kisses that taste so good?  Made in Perugia!  Perugia is also known for being a university town so why not go back to school – Chocolate School that is (site is only in Italian)!  I didn't attend chocolate school, but I did "grade" the results, which were definitely worthy of an "A" grade.  Real chocoholics know the best time to come to Perugia is in October for  the Eurochocolate Festival  which is held annually.  Perfect for those of us that would rather just eat the chocolate than make it.  This year it runs from October 19th – 28th.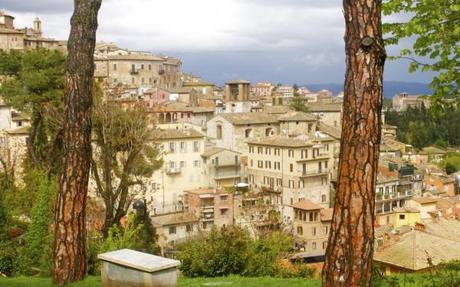 View of Perugia
When you're not eating chocolate or admiring the charm of Perugia, you can seek out the latest scandals and there are some big ones!  Like the fact that former Libyan leader Mummar Gaddafi's son, Al-Saadi Gadafi played for Perugia's football (soccer for N. Americans) club.  Admittedly it was in 2003 and was only one substitute appearance though as he soon there after failed a drug test.  Ironically, or perhaps not, his trainer was Canadian former Olympian sprinter Ben Johnson who lost his medals since he also failed a drug test.
Or you may be familiar with the American exchange student Amanda Knox who was initially found guilty of murdering Meredith Kircher, but who successfully appealed the court's decision?  It happened in Perugia when she was a student.
If the walls of Perugia could talk!  But I still prefer the charm, followed by the chocolate.  Scandal is not really my thing, although it does give a place character.  Which do you prefer, charm, chocolate or scandal?
Know Before You Go to Perugia, Umbria:
See Umbria on the Blog for more info about Perugia and other places to explore in Umbria
Perugia is located ~164km north from Rome (be sure to check out the Rome Coliseum, visit a Rome Market or for the more adventurous, test your combat skills at Gladiator School when in Rome)
Other places of interest in Umbria are  and or 84km north of Marmore's Falls, the world's largest man-made waterfall , 84km to the north, or Monti Sibillini National Park located 100km to the east where among other things, you can ride a donkey!
This photo has been submitted to Nancie at Budget Travelers Sandboxwhere you can see more travel photos.