2 Flares
2 Flares
×
New to little Indiana? Subscribe for free to my RSS feed. Thanks for stopping by!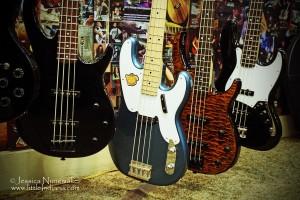 Peru Music Center: Peru, Indiana
For more than twenty years, Peru Music Center in Peru, Indiana has filled any musical gaps for locals–and beyond!
It's big, stocked full of an assortment of items, and easy to find right in downtown Peru, Indiana.
Peru, Indiana: Peru Music Center
The gorgeous, sleek, and shiny baby grand piano caught my eye as we stepped inside the very large shop. That's when I realized they didn't have just one piano, Peru Music Center had many pianos in all shapes and sizes! It was really amazing.
I wish I was one of those people who could sit down and play something…but Heart and Soul is about the extent of my musical knowledge, unfortunately. Not exactly a wowing showpiece!
I don't know about you, but I haven't seen a music shop in a very long time that also carried pianos. But the musical selection didn't end there.
Guitars, drums, violins, you name it, it was probably sitting inside this Indiana music shop somewhere!
Indiana Music Store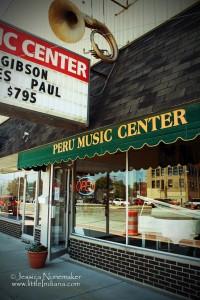 Peru Music Center: Peru, Indiana
These aren't only new items. For those not quite ready for a brand new item, there are also new to you musical instruments available too! Gently used drums and guitars are just waiting for a talented new owner.
Although I am no music expert, the prices looked very reasonable as well. One more reason to shop local, don't you think?
For those in need of a little assistance, this Miami County music shop also offers private and separate music lessons. Don't think music lessons are just for kids, either. If you've been wanting to take on a new hobby, Peru Music Center is ready for you, too!
No gimmicks or pushy salespeople. Just a great family run, small Indiana town shop by folks who really enjoy music in all its many forms!
Go There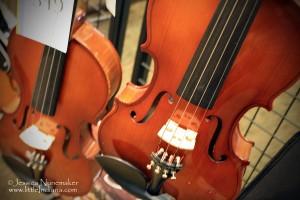 Peru Music Center: Peru, Indiana
Who needs big box music shops anyway? Shop a small Indiana town music shop and see what you've been missing!
One visit and you'll understand why this small town music shop has been in business for so long! This is little Indiana.
Find pictures in Indiana on my Flickr photostream or on the new little Indiana Tumblr blog.
Just don't forget to tell 'em that  little Indiana sent you!
Peru Music Center
15 East Main Street
Peru, Indiana 46970
765.473.6608

View Larger Map
Don't miss a moment. Subscribe to little Indiana and receive instant updates to stay on top of everything "little."
little Indiana: Where to Stay, Play, and Eat in Small Towns in Indiana. Discovering Indiana's best small towns! Now get little Indiana on your Kindle.
Targeted. Relevant. Affordable! little Indiana advertising.