New to little Indiana? Subscribe for free to my RSS feed. Thanks for stopping by!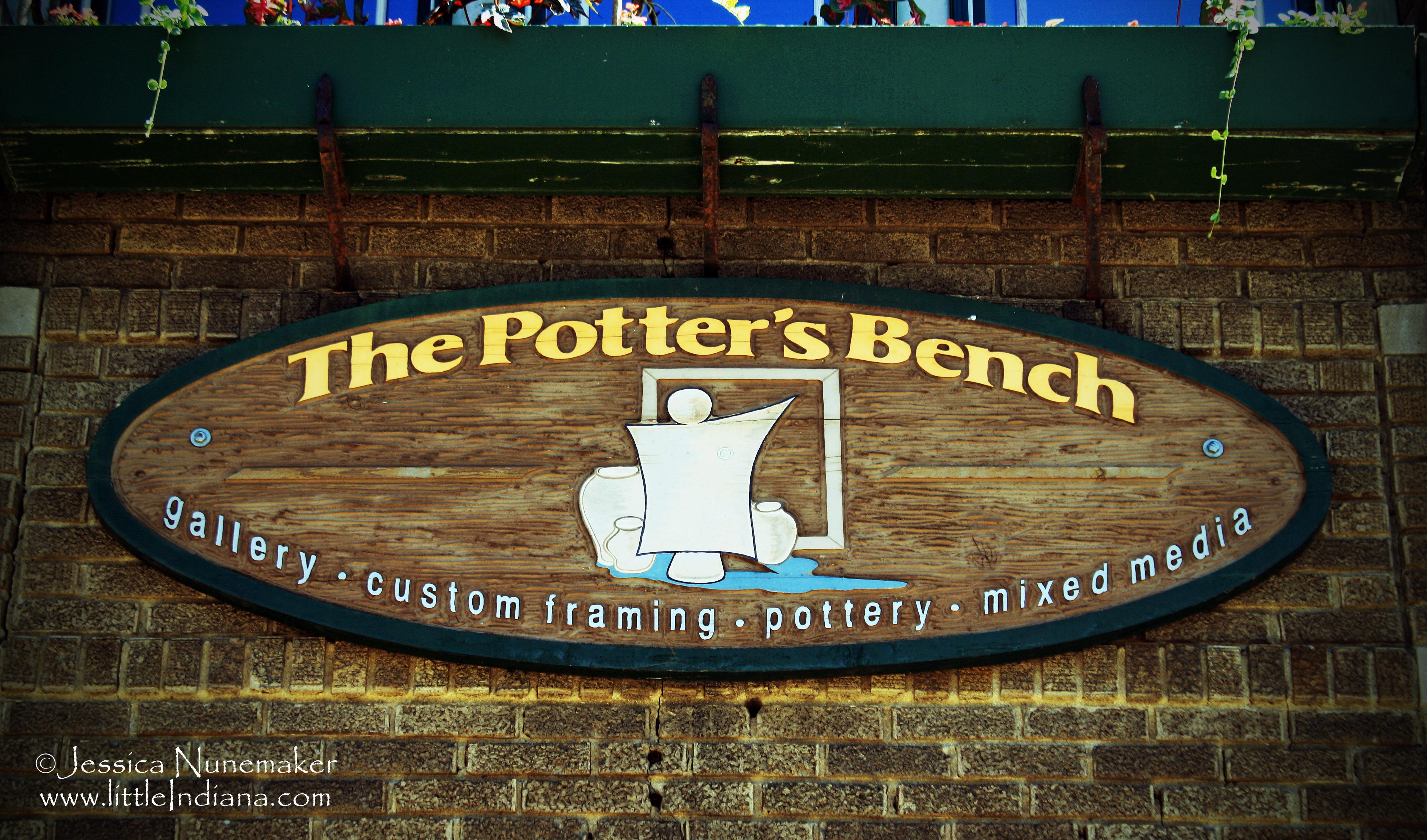 The Potters Bench: Peru, Indiana
little Indiana and hubby wandered around downtown Peru, Indiana–and happened upon The Potter's Bench.
With a name like that, we couldn't wait to see what was inside!
The Potter's Bench in Peru, Indiana
We walked through rows of baby and children's toys, clothing, and decor. It was fantastic!
This is a great place to go when you need unique (and educational) toys for the kiddos in your life. But we'll cover Pip Squeaks in a later article.
That is because The Potter's Bench is an art studio–and shares storefront with Pip Squeaks Gifts. With a gallery, custom framing, mixed media, and Indiana pottery–there's plenty of gift ideas for grown-ups, too.
Indiana Pottery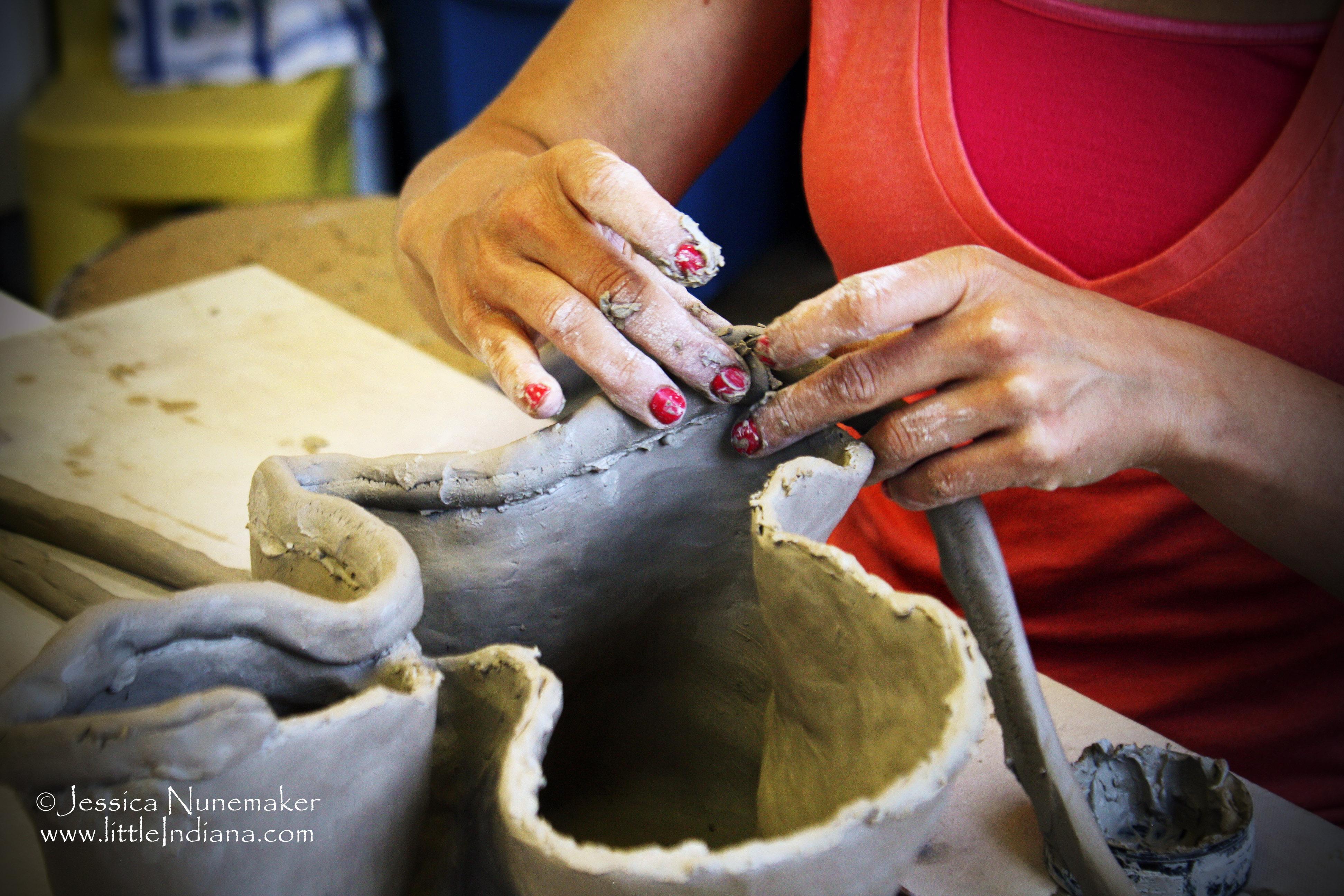 The Potter's Bench: Peru, Indiana -- Lyndsey Hitchings at Work
little Indiana and hubby had a chance to watch two potters at work: Ryan Preston and Lindsey Hitchings, both art teachers in nearby school systems.
Set inside what was once an old car dealership, this is a really cool building. Way in the back of this Miami County studio (which is much bigger than you think) lie tables and chairs, pottery wheels, and a kiln.
It was a fascinating process to watch! Lindsey Hitchings shaped her clay by hand while Ryan Preston threw it on the pottery wheel.
Before our eyes we watched one piece become more finely tuned and a lump of clay turn into a recognizable shape! How do they do that?
Their pottery isn't something you are going to see copies of everywhere you go! It is not created from a mold–it's handcrafted by wheel or by hand. It's heavy. It's original. It's made to be used!
Go There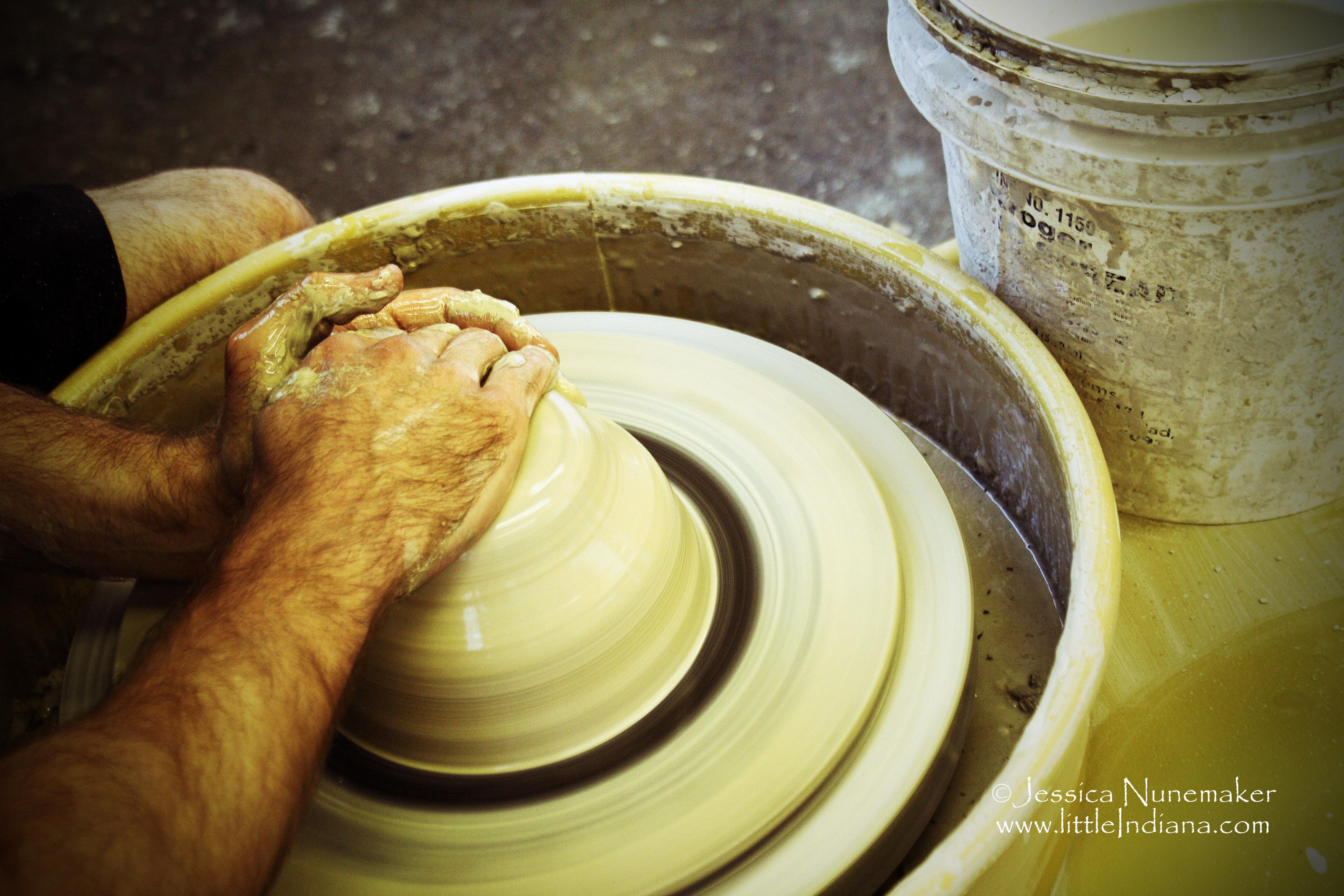 The Potters Bench: Peru, Indiana Ryan Preston at Work
Art is alive and well in this small Indiana town. Thank goodness! See it in person at The Potter's Bench or watch little Indiana Meets The Potters Bench video on YouTube or below.
With a variety of pieces for sale, this Indiana town shop is more than worth your time. You'll love it! Who needs big box or big city anyway?
Find pictures in Indiana on my Flickr photostream or on the new little Indiana Tumblr blog.
Just don't forget to tell 'em that  little Indiana sent you!
The Potter's Bench
25 W 3rd Street
Peru, Indiana 46970
765.472.2597

View Larger Map
Don't miss a moment. Subscribe to little Indiana and receive instant updates to stay on top of everything "little."
little Indiana: Where to Stay, Play, and Eat in Small Towns in Indiana. Discovering Indiana's best small towns! Now get little Indiana on your Kindle.
Targeted. Relevant. Affordable! little Indiana advertising.