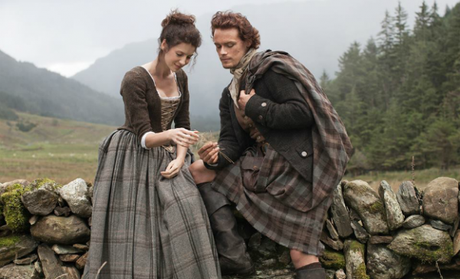 Outlander
, based on Diana Gabaldon's best selling saga,  premieres on Starz on August 9th.
Sam Heughan
 - 6' 3" of Scottish handsomeness -  wears Jamie Fraser's kilt and boots, while dark beauty
Catriona Balfe
is Claire Randall,  a married
 combat nurse from 1945, who is mysteriously swept back in time to 1743
 and ends up caught in the dangerous events that will lead to the Jacobite rebellion, but also in the protective arms of you
ng Jamie.
If you haven't read the books yet, at least the first one in the series, it may sound quite a confusing story, but I'll assure you it won't be once you familiarize with its gripping plot and characters.
In the cast also a few familiar faces, like
Tobias Menzies
(Game of Thrones, Rome, Spooks) and
Graham MacTavish
(The Hobbit).
I'd say, summer is here, hence ... Grab your copy of Outlander before it arrives on the screen, that's my recommendation. As for me, I'll have to revise and refresh my memories. It's been a while since I read it (
my review
).
Visit the
official site
to discover more about this upcoming series, watch a preview
here
and take note: 9th August US Premiere!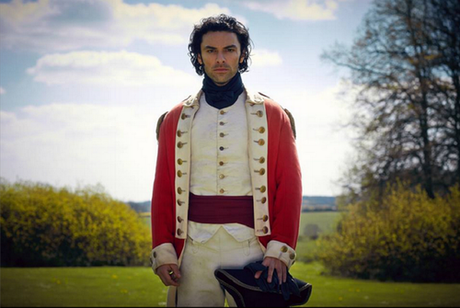 Aidan Turner as Captain Ross Poldark
Another upcoming TV drama based on historical fiction set in the18th century is
BBC Poldark
.
The story begins when Ross Poldark returns to Cornwall from war, looking forward to a joyful homecoming with his family and his beloved Elizabeth. But instead he discovers that his father has died, his home is overrun by livestock and drunken servants, and Elizabeth, having believed Ross dead, is now engaged to his cousin. Ross must start over, building a completely new path for his life, one that takes him in exciting and unexpected directions...
I was fond of the original series of Poldark when it was broadcast lots of years ago on Italian TV and I was just a teen. I can't forget 
how excited I was waiting for any  new episode and that the series ignited my already born interest for everything British
.
Now I'm waiting for the new BBC series with renewed interest and many expectations, of course.  The remake, which they are shooting now in several different locations between Cornwall and Bristol, stars Aidan Turner (The Hobbit, The Mortal Instruments City of Bones, Being Human, Desperate Romantics) and Eleanor Tomlinson (The White Queen, Death Comes To Pemberley) as Ross Poldark and Demelza and I'm ready to bet on them both though Robin Ellis and late
Angharad Rees will always remain in my heart for the incredible emotions they gifted  us with their performances. 
The new TV drama is due to be broadcast in 2015. Time to rewatch the old series or to read the book series written by Winston Graham.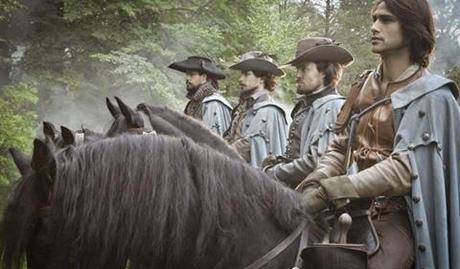 The 4 musketeers ready to set for new adventures: Howard Charles, Santiago Cabrera, Tom Burke, Luke Pasqualino
Among the period drama series which have been renewed for a second season and which I'm looking forward to,
BBC The Musketeers
and CW Reign. The cast of the first one, after loosing Peter Capaldi (Doctor Who)  and acquiring Marc Warren (The Good Wife),  is already busy shooting the new episodes in Prague, while Adelaide Kane, Toby Regbo, Torrance Coombs & co. are enjoying a period of rest and holidays while waiting to be back on set in July. 
What will the new season bring to the fans of the two series?  You can follow the updates and hope in some anticipations coming from the twitter and instagram accounts of  the protagonists themselves (
Luke Pasqualino
D'Artagnan, Ryan Gage King Louis,
Adelaide Kane
Mary Stuart,
Toby Regbo
Prince-now- king Francis and
Torrance Coombs
Bash),  of
BBCOne
or  
CW Reign
.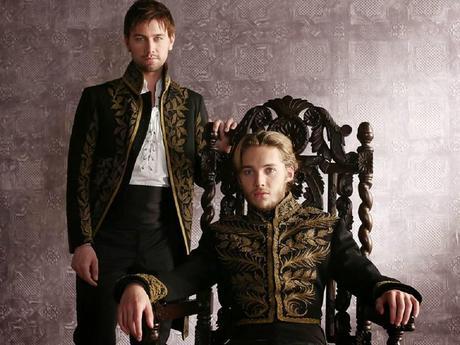 Torrance Coombs and Toby Regbo in their Reign costumes
What are the new costume series you are most eager to see in the next season?