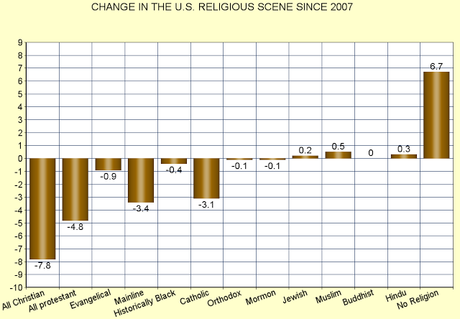 A new Pew Research Center study shows that the number of christians in the United States continues to shrink. Note in the chart above, made from the results of that study, that all christian sects have lost about 7.8% of their membership just in the last eight years (since 2007). And it is not in just one group -- all of the christian groups have lost membership -- protestants 4.8%, catholics 3.1%, orthodox 0.1%, and mormons 0.1%.
The non-christian religions have seen some tiny growth, but there is only one group that has seen significantly larger growth -- those with no religion at all, which showed a growth of 6.7%. In fact, the non-religious are now the second largest group in this country. The largest group is the evangelicals (62 million), followed by the non-religious (56 million), catholics (51 million), mainline protestants (36 million), and Black protestants (16 million).
If this trend continues, and there is no reason to believe that it won't, in another decade or two the non-religious could be the largest group in this country. The chart below shows the generational change in religion. Note that with each new generation the number of christians shrinks, and the number of the non-religious grows. In the latest generation, the millennials, the number of non-religious people is now about 34-36%.