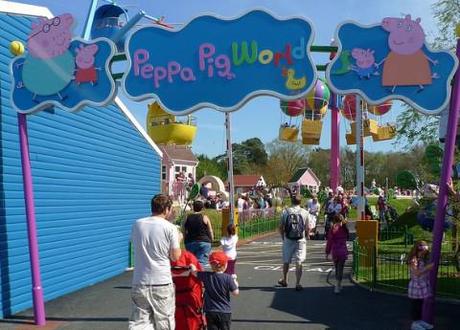 Peppa Pig World. Photo credit: foilman, http://flic.kr/p/9xitPF
Peppa Pig: Adorable children's character or menace to society? According to The Daily Mail – where else? – this debate is raging in households across the land, as parents have come to believe the cheeky pig is a "bad influence" on the nation's youth. Peppa is suspected to be behind a rise in disturbing behavior among young children, from "answering back" to jumping in "muddy puddles".
The cartoon series has proved hugely popular in recent years: The Guardian reported that the show is watched in over 180 countries and has spawned a variety of spin-offs, from cuddly toys to online games to stage shows. Parents can even take their pig-crazy offspring to Peppa Pig World in Hampshire – damningly, the theme park includes a "Muddy Puddle" play area. J'accuse, Ms Pig.
This isn't the first time Peppa Pig has been accused of corrupting innocent children: Astley Baker Davies, the British animation company behind the show, apologised in 2010 for failing to depict the characters wearing seatbelts, reported the BBC.
The UK government has yet to announce legislation to deal with the porcine trouble-maker. So what should responsible parents do in the meantime?
Kill the pig. According to The Daily Mail, some parents have banned their children from watching Peppa Pig: "One father spoke of his despair at how his four-year-old son had taken to splashing in what he gleefully called 'muddy puddles' on his way to school – copying Peppa's favorite pastime." But this may not be enough to halt the tide of naughtiness engulfing the nation: psychologist Dr Aric Sigman told the paper that all television programmes can potentially affect children's behavior.
Defend the pig. Grown-up Peppa fans have taken to Twitter to defend the character. "Peppa Pig is making children answer back? Rubbish, in our family it is making us all jump in muddy puddles," tweeted Danuta Kean. At Mumsnet, which was cited by the Mail in the original story, commentators were divided as to whether Peppa is a malign influence or just good fun.
Love the pig. Ahead of the latest debate, Judith Woods described the appeal of Peppa in The Telegraph, revealing that the little pig is a big hit in her household: "There's something about the adenoidal little Peppa, her oinky little brother George, her lovely big Mummy Pig… and her good-natured bumbling figure-of-fun Daddy Pig, that has melted the hearts of middle class snobs the length of the land."